October 2004
Usually, we spend four or five days in B.C. over Thanksgiving, but with this year's lack of income over the summer, we decided that the fuel for a ~1500km trip was a little cost prohibitive. Instead, we kept it down to ~500km and spent 5 days out in the Waiparous Valley area.
We set out from home on Friday, October 1
st
. After having lunch & airing down our tires we headed along the Margaret Lake Trail to the river crossing to see if we could get to Black Rock Canyon.
This is only the third time that the water level has been low enough to feel comfortable crossing. We drove up to the head of the canyon & camped there for the night.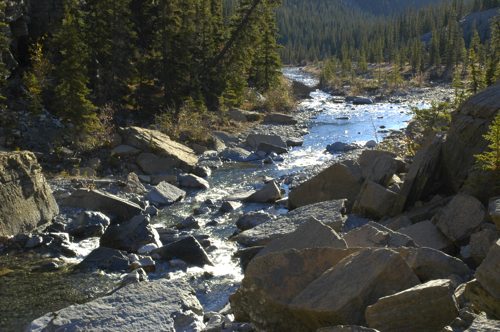 The next morning the light was right to get some excellent shots of the head of the canyon.
A waterfall near where we camped was just beginning to freeze up. Beautiful to look at, cold to stand beside!
Saturday we headed northward on Margaret Lake Trail and then explored a bit of the Ghost Cross Country Trail, doubling back down towards the river again.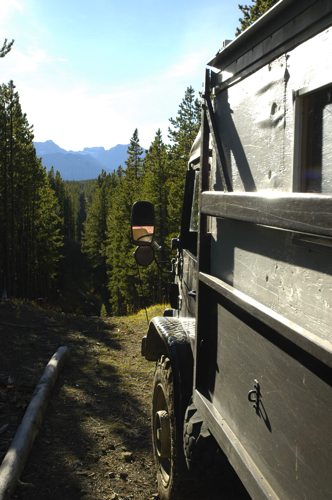 Lunch was on one of the many intersecting cut-lines.
We had been thinking of camping along the Mockingbird Trail on Saturday night, but the sight of these two very un-afraid young grizzlies made us decide to go over the mountain & camp near the river.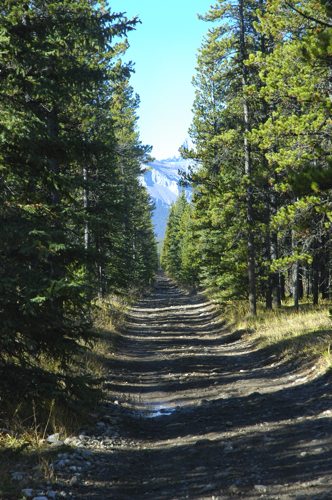 Sunday we set out to explore the Mockingbird Trail and northward on the Ghost Cross Country Trail. Most of the trails in the area are on or near cut-lines, with varying degrees of difficulty to get through. When it is wet, there is a LOT of mud, sometimes to the point of prohibiting passage. At the time of this trip, it hadn't rained in a month or so, so many of the muddy spots were dry enough to traverse.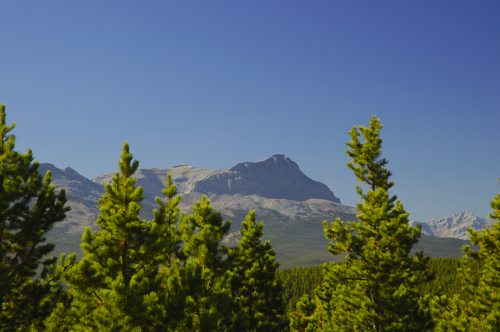 A couple of the wonderful views from some of the higher points on the trails.
We don't do mud "just because", but if it is between us & where we want to go, we go! Very muddy wheels were a large part of this trip. This is one of our favorite plateaus to stop & have a break & look at the gorgeous views.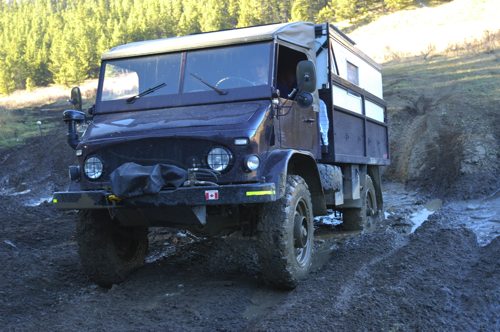 Before we head into a questionable mud puddle, we tend to scout out a good "winch tree" on the other side. This puddle on Cabin Creek Trail may not look like much, but there was a slick log on the ascent out of the puddle & we just could not get traction. The ground was also frozen in this spot, with less than an inch of thawed mud on top, very little traction for boots, let alone tires! A good sized, well used tree directly in front of us made it easy to winch ourselves up out of the puddle. Only a few kilometers further on, the trail deteriorated too much for us to want to head through it alone (a second truck & we'd have ventured much further). Once we found a spot wide enough to turn around, we had to cross this puddle again going the other way! Note there is no winch-tree behind the truck in the above shot. However, since the log was on our descent this time, we got through it just fine.
The above puddle had rather steep sides, coming through it the second time we seem to have picked up a very sticky passenger... It took a lot of scraping to even be able to see the hook on our winch line (hooked to the pin in the bumper) after this.
After turning around on Cabin Creek Trail, we headed further north on the Ghost Cross Country Trail, then tried the Fallen Timber Trail.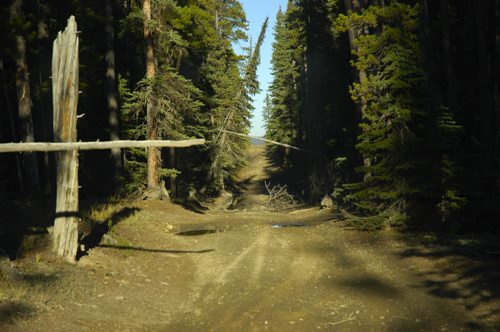 A number of the trails at Waiparous are frequented more by dirt-bike and quad then by truck. The trucks that do go through don't tend to be quite the size of the 404. With a soft top & solar panels one tends to be a little careful about sweeping trees! Many can be held up by the co-driver, others are removed with our bow-saw.
Sunday night we camped near where the Fallen Timber Trail intersects with Hunter Valley Road. Monday morning we headed out to the trunk road to see if we could manage to get a cell signal to check phone messages.
There is a viewpoint "rest area" on the trunk road that is elevated enough to get a very crappy cell signal. The view of the Waiparous valley is gorgeous. There were no messages that needed urgent attention, so we decided to stay one more night.
We headed back up the truck road to Hunter Valley Road. On our first trip after reassembly of the truck this spring, we had headed up this road, but it was too muddy & slippery to get very far. This time, after a month of dryness, mud was not an issue.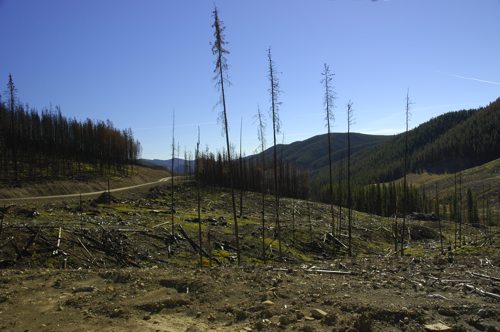 Hunter Valley Road turns into McCue Creek Road, which in turn dumps back out onto the Forestry Trunk Road just a little south of the Mountain Aire Lodge on the Red Deer River. These facts were not illustrated on our map, so we learned something new! We turned around at Mountain Aire & headed back the way we had come. There are many large burned patches along Hunter Valley Road, obviously from the extensive fires in 2003.
Coming back south, we managed once again to find the Ghost Cross Country Trail, this time at the north end. Much of it was very passable - by quad! After just too many narrow spots with tight turns, we decided to turn around & head back out. We camped Monday night near Hunter Valley Road.
Tuesday we tried the Nuisance Creek Trail, but got to a really bad cut-line crossing that we just weren't comfortable trying. The Hunter Valley Trail was just too narrow for our tastes, so we headed further south and tried the Little Red Deer Trail. This trail is a pair of joined loops (according to the map) that cover a fair distance. We decided that the trail was too narrow & rough to try the whole thing, but headed off on an arm that showed to connect back to the Trunk Road a little further south. The trail was pretty wet & narrow. A lot of tree roots above ground made the trail incredibly rough, but we decided to continue on as it wasn't supposed to be very long (3km). We came out behind the "gravel pit" (commonly used staging area), crossed the Trunk Road and carried on on the Meadow Creek Trail.
After a stop for lunch in a very pretty meadow, we headed south along the Lost Knife Trail. This is a 12km trail that can seem extremely long, but was uneventful that day. This trail ends up on the Trunk Road just north of the South Ghost staging area. This trail seems to be a good way to avoid a large section of the trunk road and enjoy the pretty scenery. We aired up the tires & headed back into the city.
A beautiful 5 days in October spent with the windows out of the truck every day! The mornings & evenings were cold, but each day was warm and sunny.