About the Volkswagen Haven
When contemplating our vacation planning for 2007, we realized that attending NWMF 2007 was just not a possibility. No matter how much we enjoy visiting with the collection of people that end up at the Molloy farm each August, that time frame was just not going to work this time. We booked our vacation for the last week of August & the first week of September. Originally, we were planning a dual-sport trip on the KLR's. Alaska? B.C. coast? We hadn't decided yet. On the 1st of August, Keith crashed his Z1000 on the track at Race City Speedway. He and the bike fared remarkably well (no broken bones on him; minor dents, a bent bar & a broken rear set on the bike), but that ended off-pavement riding for the duration of the 2007 season. Since the thumping of the KLR was too much for the injured shoulder and Keith had already tired of touring on the slightly cramped for him Z1000, a 2007 Ducati ST3s joined our stable less than 2 weeks later. Keith had been making his decision on another bike for most of the summer, but had been intending to delay the purchase to 2008. An interesting side note is that the ST line was discontinued for the 2008 Ducati line up, so he may not have been able to get an ST3 in 2008! After a quick 1000km the bike went in for its first servicing and came home again on the afternoon of Friday the 24th of August.
Day 1 - August 25
th
: Calgary, AB to Cranbrook, B.C. ~450km. We didn't get away from home until after noon, so we put in a short day and spent the night in Cranbrook, B.C. We didn't get any rain, but rain drops were threatening us through the parks.
Day 2 - August 26
th
: Cranbrook, B.C. to Grangeville, ID. ~620km. Having two weeks to travel with no fixed destination at all was a bit new to us and took a few days to get used to. So, in our motel room in the morning we flipped on the weather channel to help decide which direction to head. Since the forecast for all of southern B.C. for the next few days was rain, we chose south! Another deciding factor in this decision was the fact that spending two weeks in B.C. *completely ON PAVEMENT* seemed like a bit of a challenge. We crossed into Idaho at Kingsgate/Eastport and headed into a very windy region.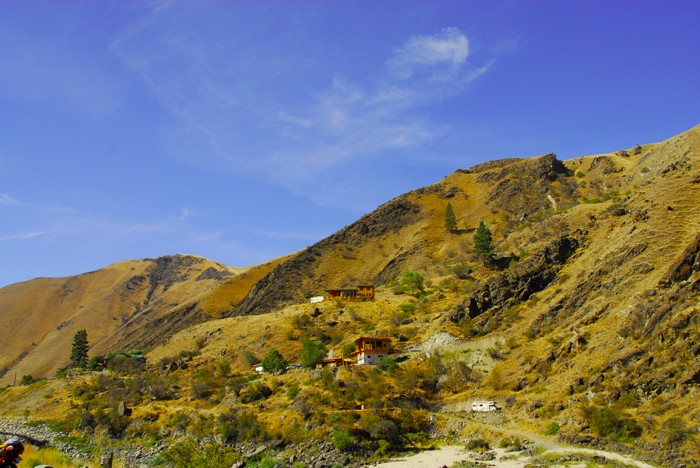 We tried our best to get onto lesser roads as much as possible and had lunch at a so-so burger joint in St. Maries. The windy road out of the canyon up to Grangeville was fun. After about 2000km the Ducati was starting to feel pretty good and natural. It started to show it's racing heritage. Trail braking and leaning into the corners and accelerating through them was really feeling great... right up until Keith's knees reminded him that it had been a long day on a sport bike and the the heavily loaded panniers reminded him that he was riding a loaded touring machine. Still, the bike was starting to show it's true nature and hint of what would come. We found a motel in Grangeville that night - a little on the expensive side & OLD but clean. We were too tired to shop around & there was a *great* Mexican restaurant across the street.
Day 3 - August 27
th
: Grangeville, ID to Arco, ID. ~650km. We had breakfast at a really good little local place called Oscar's & then headed out to find lots of good twisties en route to lunch in Stanley. After lunch we headed south on the 75.
We would have happily stopped at Hailey or Bellevue, but there was forest fire activity in the region and it didn't seem like a good idea to stop in an area that was on evacuation alert! We stopped briefly at the Craters of the Moon National Monument.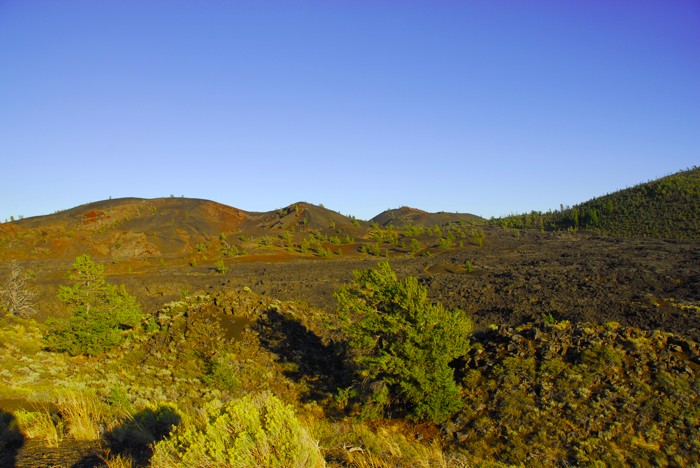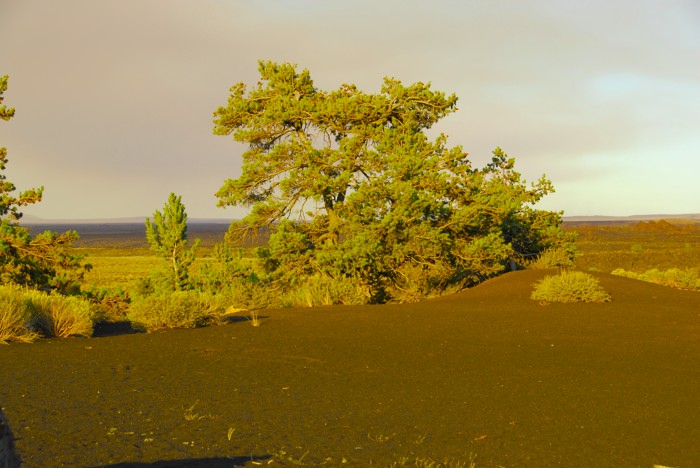 What a desolate collection of lava garnished with a bit of sagebrush! The visitor's center was closed for the day and we had no interest in pitching our tent on the windy lava beds so we pushed on to Arco where we found a very cheap, clean little motel with Pickle's Palace across the street.
Odd as the place looked, it had cheap, tasty food and a really good seasoning spice - we bought a bottle for our house-sitters!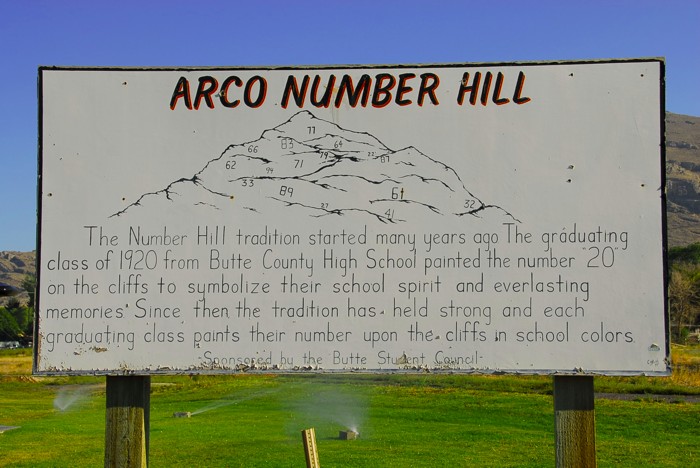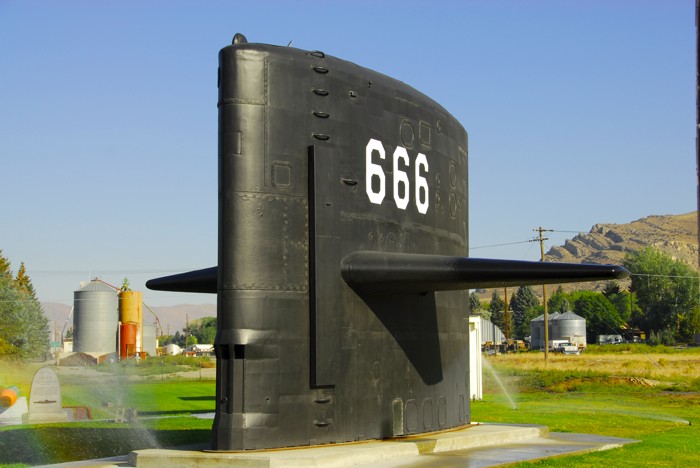 The little park right beside our motel included parts of a submarine, the lawn watering made for some tippy toeing around the place that morning.
Day 4 - August 28
th
: Arco, ID to Wells, NV. ~580km. In many ways, we should have detoured into Atomic City that morning, just to see it. Atomic city had the first (experimental-functional) nuclear reactor for generating electricity. It could power a 60W bulb!!! Along highway 26 near there we passed a semi with a radioactive sign on the back. It took a little time before Sharon got past the truck which Keith had already passed, and our radios could not find each other while we were separated by the semi - despite flat land & a relatively short distance separating us! Heavy lead encasement?!?! Along the 37 south to Utah we saw signs of recent fires - scorched sagebrush and watchful fire crews. They seemed to think the two crazies heading through on motorcycles were rather out of place in the area. There were few inhabitants or amenities in this area. We crossed the border at Snowville and had a rather tasty lunch. We had to do a 1km stretch from here on the I80 to get to the #30 where we headed towards Nevada.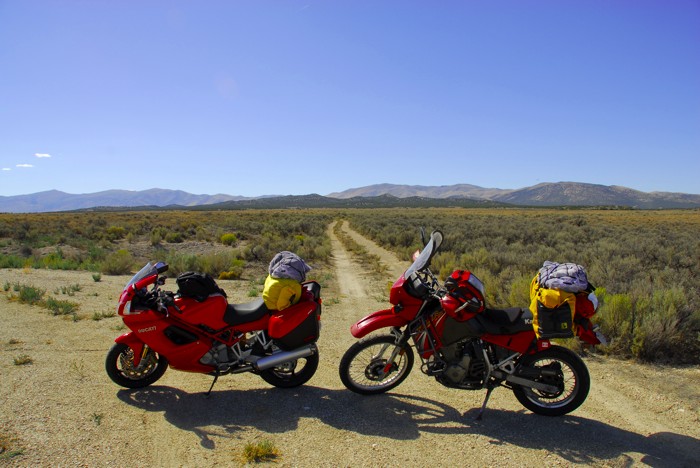 For all of the 149km that we spent in Utah we were unable to find any signs to prove the fact!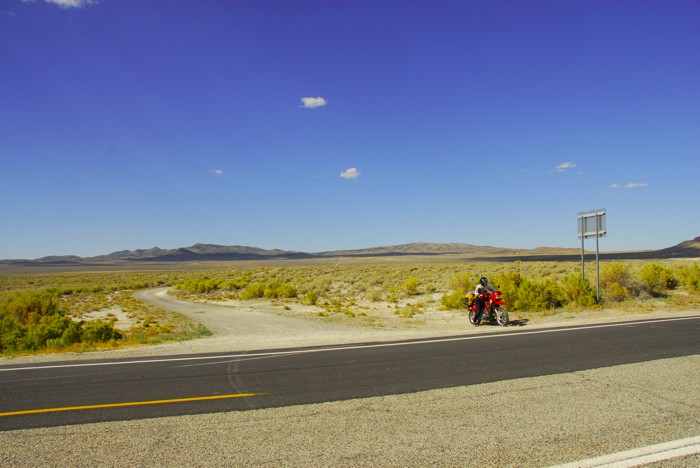 At the Nevada border we took pictures at the "welcome to" signs for both states. We purchased a Nevada map at Montello. Oasis seems to have dried up! There was a rather large gas station there once - it is now totally abandoned. We were once again compelled to ride on an interstate, 27 miles on the I80 to Wells. Sharon's KLR got its worst mileage ever. Reserve at 238km, which translated to 7.2 liters per 100km on that tank of gas! Our cruising speed on that boring stretch of road was 130-140km/hr. The ST3 loves those speeds, the KLR not so much. The ST3 only used 4.7 liters/100km on the same stretch of road.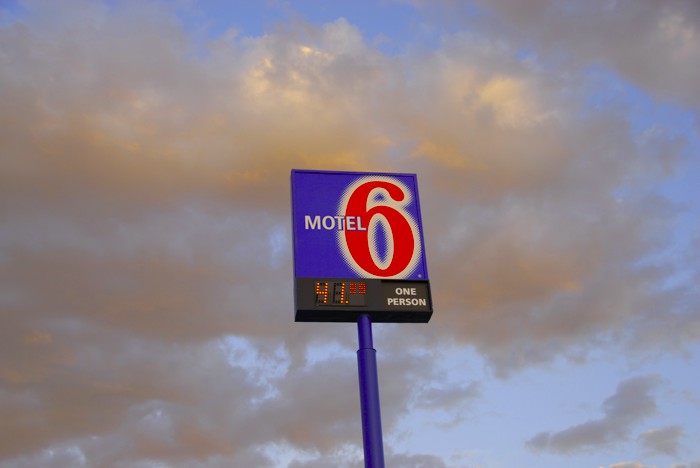 We got a cheap room at the motel 6 in Wells and had another good Mexican dinner, this one at the 4 Ways Cafe.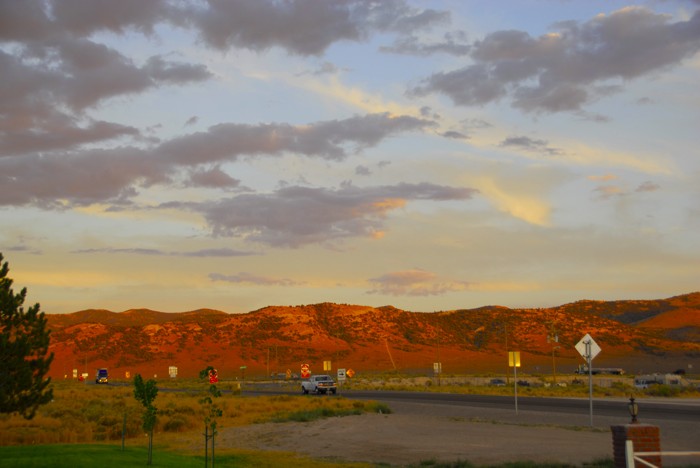 Day 5 - August 29
th
: Wells, NV to Parma, ID. ~540km. Heading north from Wells there were no real signs of civilization until Jackpot on the border with Idaho (~108km). The scenery was mildly interesting, but the road was rather boring. Once we crossed the border into Idaho it all pretty much flattened out all around us. In Twin Falls we found a Harley store where Sharon bought a laced hair glove. Wonderful to keep the braid from doing strange flapping maneuvers in the wind! One odd thing we noticed, there were no Buells in the place. When we stopped for lunch in Buhl we were stopped by an EMT who complimented us on wearing full gear. He'd scooped up too many crashed motorcyclists in that no helmet law state. Later in the afternoon we accidentally ended up going through Nampa - shopping mall heaven!!! Yuck!!!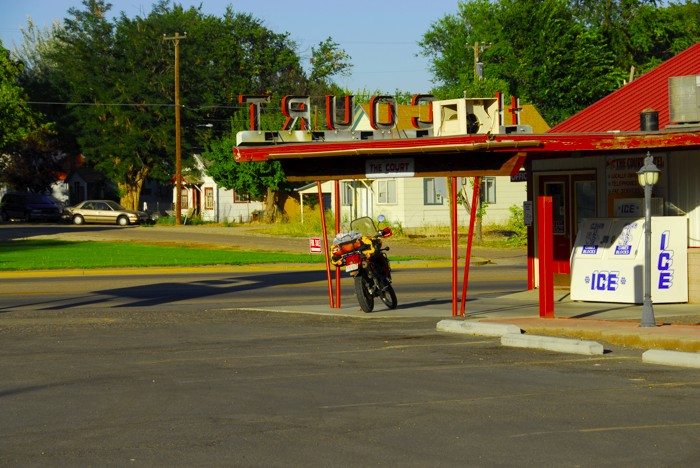 A bit later we found an amazingly cheap, clean motel room in Parma, we were the only guests that night. We spent a whole whopping $8.59 for our dinner.
Day 6 - August 30
th
: Parma, ID to Pendleton, OR. ~485km. We had been directed the evening before to have breakfast at Jakx cafe (& gas station) down the street - owned by the same people as the motel/convenience/liquor store. Then we headed north to Cambridge, Brownlee Dam & across the Snake River into Oregon.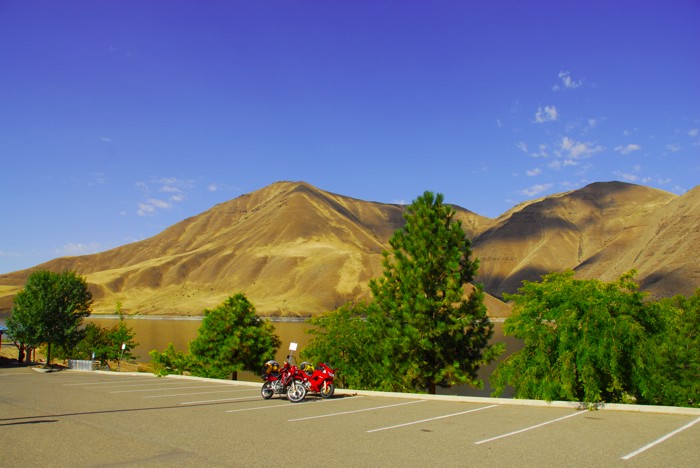 That 25mph speed limit on the road along the reservoir sure is a challenge, but fun!
Just barely inside Oregon Keith had to make a panic stop when a Yellow Jacket decided to enter one of his helmet vents. Luckily the slightly dizzy critter was coaxed out before managing to sting him. We went north on a road just after Oxbow to Joseph. We made a side trip off of this road to the Hell's Canyon overlook.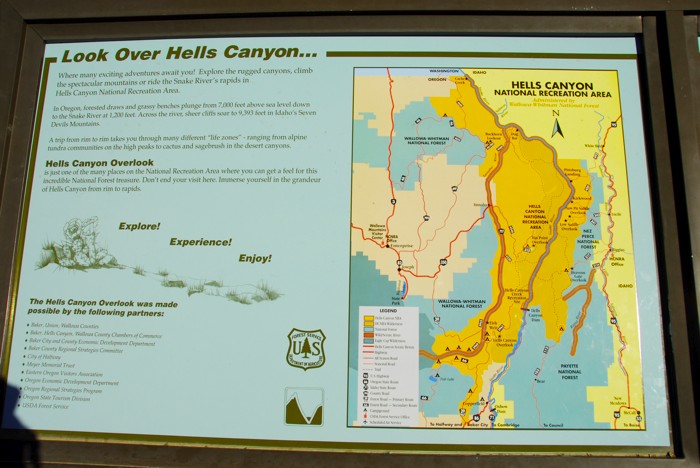 Very scenic! We met a guy on a V-Strom from Michigan (we think, it definitely started with an M) who was in the last couple weeks of a 3 month motorcycle journey. He'd been through Canada to the NWT & Alaska and was now on his way home. Nice!
The road from Oxbow to Joseph had some great twisties mixed with a poor road surface. Another great Mexican meal for lunch in Joseph - $20 included food, beer & tip! From Weston to Pendleton flattened out into plains again and was hotter than we had experienced in Utah or Nevada, 100°F/38°C on a sign in Pendleton - we got a room with good air conditioning there. Our somewhat disheveled appearance caused some people in the pizza place where we had dinner to ask if we were fire fighters! The evening was hot & humid with lightning.
Day 7 - August 31
st
: Pendleton, OR to to Prineville, OR. ~490km. We decided to set out on the windy road to Heppner before breakfast.
Gorgeous road with good pavement and plenty of well banked curves, too bad the wind was so bloody strong. We had huge omelettes & big cups of coffee in a little place in Heppner. We met 4 fairly local motorcyclists that had also come there for breakfast. One was drooling over the ST3s and they all felt our pair of touring machines were rather a big mis-match. We headed south after that & had an interesting chat with a personality on a Sportster at Kimberly. At Dayville we managed to find some better maps of the area.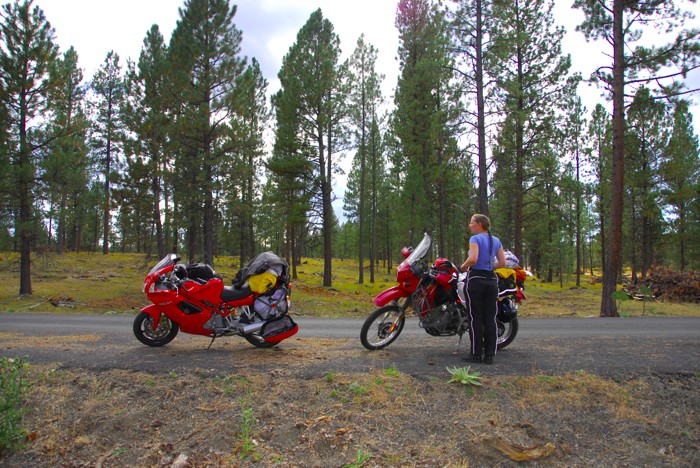 We encountered USFS#21 that afternoon. Awesome! The road was paved, with about 1/2 of it being only one lane and all of it really nice & twisty. The one lane section was signed with a 25mph maximum - you have *got* to be kidding!!! We never actually managed to find a number for the road we then took west through Paulina (one pedestrian & a few buildings), Post (a general store) and eventually into Prineville. Between the wind & the sun in our eyes we could have happily stopped about an hour sooner, but the road was wonderfully twisty. You might as well say we spent the whole day on twisty roads, 300 miles! We found a good little Italian restaurant around the corner from the Econo Lodge and shared a very nice bottle of wine.
Day 8 - September 1
st
: Prineville, OR to Sheridan, OR. ~410km. We managed to find a mediocre breakfast at what appeared to be the only open place in town, and then headed west to Bend & Sisters. We wanted to take the #242 over McKenzie Pass, but the road was closed due to smoke. We stopped for lunch in Corvallis at the Fox & Furkin. Given that it was now the Saturday of the long weekend, we chose not to head any closer to the coast just yet. We rode north to Amity and then west to Sheridan. We found Jim Molloy puttering in his yard, he recognized Sharon's KLR and deduced that it was Keith on the very pretty red Ducati in his yard. Jim invited us in and gave us Daniel's room for the night and we had a good visit with him and also Emilie when she got back from her day at the beach.
Day 9 - September 2
nd
: Waldersee Farm, Sheridan, OR. ~0km. Jim & Emilie already had plans to go to the state fair, so we hung out, did laundry, and borrowed the 404 fire truck for a drive through the obstacle course and the river.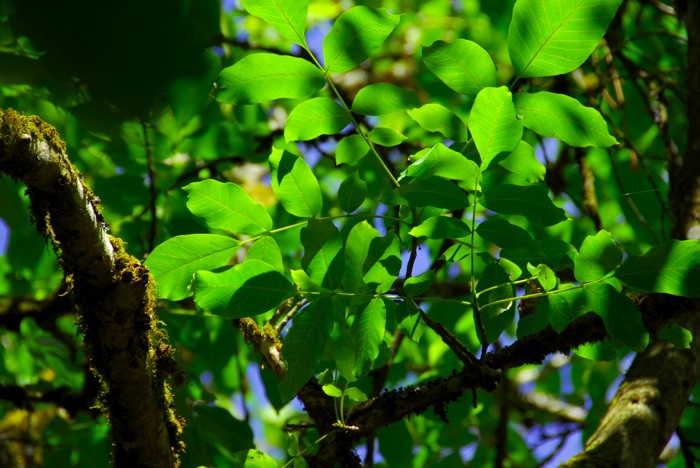 We had a nice relaxing day picking hands full of blackberries, taking pictures of Daniel's dog Laika, and helping Jim with a few bits around the barnyard. We shared pizza & good company that evening and slept under a tree in our tent. A very nice quiet day! We adhered the "I drove to NWMF" stickers to our bikes and all wondered if Eric Messersmith might drive in 2 weeks late as well, sadly he did not.
Day 10 - September 3
rd
: Sheridan, OR to Long Beach, WA. ~370km. We pulled away from Jim & Emilie's near noon after re-packing the bikes and visiting a bit more with each of them. The 22 to Hebo is a good, twisty path to get closer to the ocean.
Then we went south to Pacific City and had more Mexican food for lunch. We rode north to Netarts then inland to Tillamook. There was a lot of traffic headed to Portland from the beach, but NONE on the beautiful twisty road north through Timber & Vernonia. We crossed into Washington on the Cathlamet ferry and bridges. There was really nowhere apparent to stop for the night there, so we headed west again into the darkness.
We finally found a motel on Long Beach with an attached restaurant. We enjoyed some good seafood and a nice bottle of Oregon Pinot Noir. They even let us park our bikes under the awning to stay out of the rain.
Day 11 - September 4
th
: Long Beach, WA to Port Townsend, WA. ~390km. We rode about 60km to breakfast that morning, exploring to the end of the peninsula. There had been rain overnight, and we got "heavy mist" off & on through the day, but did not get rained on. We headed east & north across the Olympic Peninsula and then north on the 101 into Port Townsend. Just before we got to the port, the sky cleared and was a beautiful blue. For some reason, the weather *always* seems to clear for us when we get to Port Townsend!
We spent the night in a cabin at the Swan Inn in Port Townsend.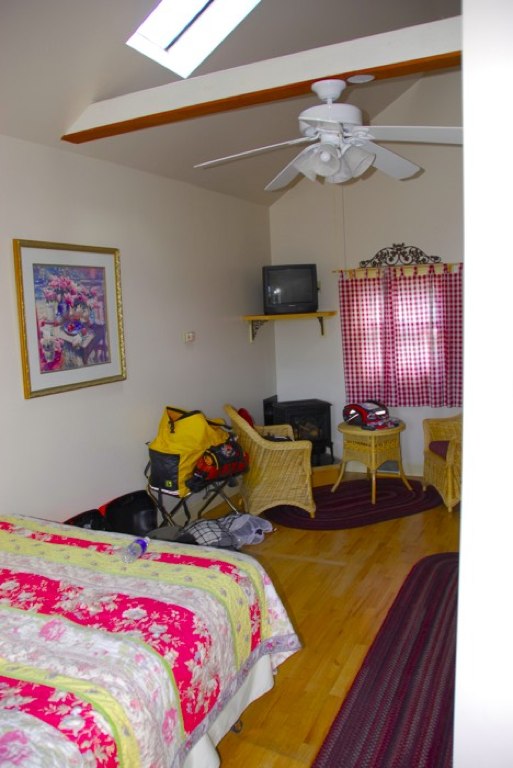 Our most expensive room of the trip, but it was a beautiful little cabin with a Jacuzzi (also a fireplace, had the temperatures warranted its use).
We wandered about the main drag for a bit before deciding on Mexican for dinner.
Then we wandered the docks for a bit & took some pictures before heading in for the night.
Day 12 - September 5
th
: Port Townsend, WA to Twisp, WA. ~360km. This day had less mileage than most, but a fair chunk of it had a LOT of traffic.
We crossed on the ferry to Whidby Island & then chose to head south to Clinton & take the ferry there to Mukilteo on the mainland. The 6 or 7 km that we had to do on the I5 north were frightful. In the *rest* of Washington state, if there was even a bump in the road, there was a "MOTORCYCLISTS USE EXTREME CAUTION" sign. By the same set of standards, this chunk of road should have sported signs reading "MOTORCYCLISTS WILL DIE IF THEY RIDE ON THIS ROAD". There were random patches of the most horrendous grooved pavement we have ever encountered, with the grooves oriented in random directions! We got off of the Interstate as soon as possible, as we don't care for them. The roads around there were still heavily trafficked with lots of lights though. Once we got to the 530 at Arlington the road was a lot better, though the traffic was still heavy at times. We headed to the 20, which we're already familiar with as a great road to ride/drive on. A couple of metal deck bridges gave a moment's mental pause, but went well (a bad experience on a very worn metal decked bridge with knobbies has made Keith very wary, but these bridges were OK). Diablo Dam was very windy, as expected. Rainy Pass may have had a few raindrops, but not enough to be certain we were getting rained on. When we got to Winthrop, the hotel was full. There was a place with cabins down the road with vacancies, but the restaurant was closed - so that wouldn't work! Twisp had several motels, but most of the restaurants were closed - most looked to be permanently closed - so we chose the one just across a bridge from the local micro-brew pub. Good food. Good Beer!
Day 13 - September 6
th
: Twisp, WA to Lillooet, BC. ~530km. We decided to put on a few miles before breakfast. There was *one* spot in Twisp that looked like it might be serving breakfast, but we decided not to try it. We came across a soda-fountain like place (very retro) in Okanogan that had very tasty large breakfasts that we both enjoyed. We fueled up with cheap US fuel for the last time in Oroville before crossing the border into Osoyoos. The border crossing was uneventful. The only oddity was that the border guard wanted us to come up to the gate separately. He didn't even request us to remove our helmets (weird). Despite an *excellent* tour in the US, we did enjoy getting back into Canada where we didn't have to convert miles into kilometers anymore... the fuel prices were a bit of a shock though. We rode into Princeton, then on to Merritt & Spence's Bridge where we identified the Inn where the planned STn meeting was to be on the next day. However, we decided to travel about 100km further that night and headed to Lillooet just to look at the raod. We got a room at the Mile 0 which was about $2 more than the 4 Pines, but well worth it due to the availability of a ground-floor, non-smoking room! Our room was next to a guy from California traveling on a V-Strom on his way home from Alaska. He didn't seem to be enjoying his trip and was planning on being back home the next day! Maybe he needs to learn to rush a bit less. We had dinner at the local Greek place which had great pizza & cheap (for Canada...) Greek wine. Alcohol prices is the other thing you really notice when you cross the border. The Corona's cost twice as much in Canada as in the States & a cheap bottle of wine costs what a "pretty good" bottle cost in the US. The #12 north was a nice twisty road, though there was a lot of rock in a number of the corners. We noticed that the "end road construction" movement doesn't seem to be catching on as well as we'd like. There was only *one* picketer at the end of each construction section and they stood very still. Still enough to almost seem post-like...
Day 14 - September 7
th
: Lillooet, BC to Penticton, BC. ~445 km. We had breakfast at a local hotel & then set out to the north on the #12. It was a fun twisty road with bad pavement until about Pavilion, where we encountered new pavement! Still fun & twisty after that... We stopped at the intersection with Hat Creek Road to change to our rain pants & put rain covers over our tank bags. Shortly thereafter we had a short yet drenching cloudburst & then encountered intermittent showers up to Cache Creek. We headed to Spence's Bridge where we met Nitro (Rocky) & got coffee to await the arrival of Dante's Dame (Colleen) who got there shortly thereafter. The 4 of us had lunch & then Rocketjock (Doug) arrived a bit late & also grabbed a bite to eat.
The group headed to Merrit where Nitro had to leave us, then on to Princeton & Keremeos.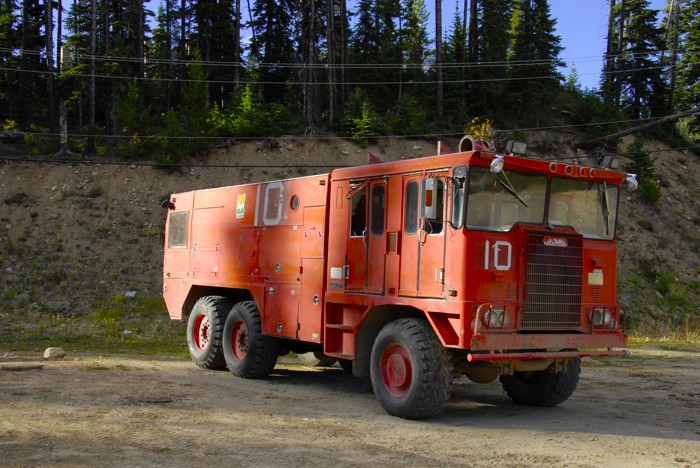 The Apex Mountain Road was wonderful & twisty, we rode around Apex for a bit without ever finding the Double Diamond Hostel and then headed back down into Penticton. "Joe from Idaho" (Traveler) had arrived in the area earlier and already checked into the local roach motel. Dinner at the local White Spot was tasty but somewhat pricey. Hey, we'd gotten used to U.S. pricing!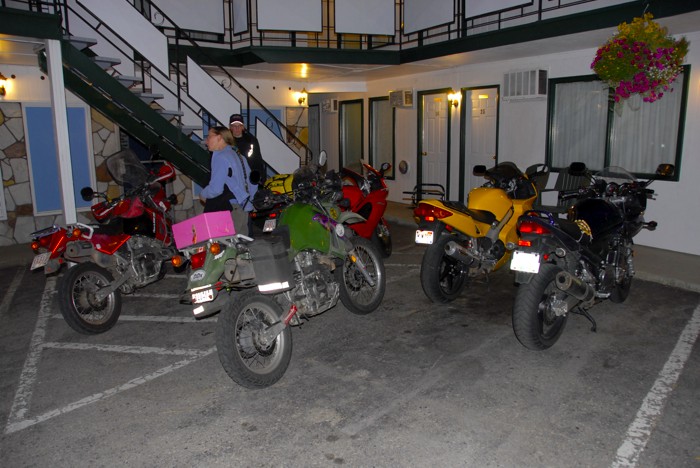 We chatted around the 5 bikes for a bit before agreeing to meet around 8am the next morning.
Day 15 - September 8
th
: Penticton, BC to Castlegar, BC. ~690km.
We awoke around 6:30am, knowing we couldn't sleep anymore. Doug headed off to find a car wash, & the rest of us contemplated coffee. The motel was supposed to supply free coffee in the office in the morning, but it was still closed! Several of our collective tires received a bit of air from the compressor we carry on the KLR and then the group headed out soon after 8am. We headed through Osoyoos to Rock Creek for fuel, then on to Beaverdell for a rather tasty brunch. Just outside of Kelowna we came across the scene of what must have been a motorcycle accident. There was a patient being strapped to a spine board in the road with no evidence of a mangled vehicle, but a cruiser was parked off to the side, it was a sobering site. Rocketjock parted ways with us at Kelowna for a while due to carburetor issues. In Vernon we were joined by FastStage1 (Chris) who joined us for the ride across the 6 to Needles. Chris is a very speedy rider! Sharon didn't have a hope of keeping up with the rest of the riders, but also enjoyed the ride on the nice twisty #6 just the same. We crossed on the ferry at Needles to Nakusp. From Nakusp to New Denver & then across the 31A to Kaslo Colleen & Joe rode at their own pace separate from the two of us for most of the time. The very fresh pavement on the 31A road was a delight! Half way to Kaslo we found Joe & Colleen stopped at a rest stop due to a frustrating bout with traffic, so Keith was able to spend some time pacing along with them, and then stop and wait for Sharon (who gets faster every time she rides this road) at the entrance to Kaslo.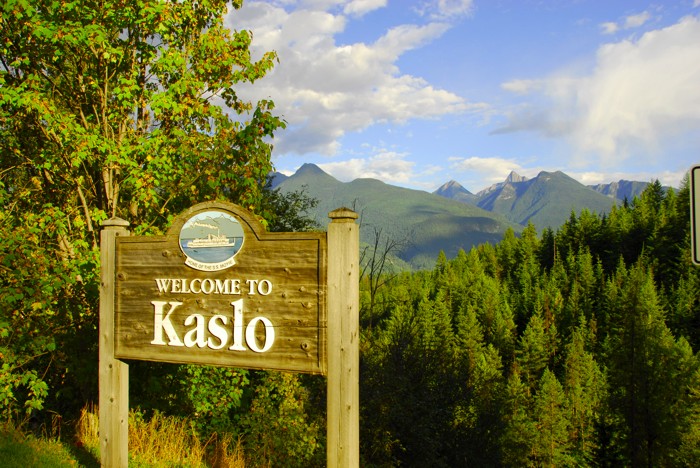 Heading into Nelson we had no idea where to find the Hume, but a closed Visitor Info center had a map outside which helped us on our way. Nelson hotels were all booked up for a car show, the few rooms left *started* at $229/night, no thanks! Joe decided to carry on and find a room, the two of us, together with Colleen, decided that dinner was our priority. A few minutes after we placed our order, Doug reappeared. Bubba Zanetti (Jim) had meant to join us for dinner in Nelson, but didn't make it. We finally managed to get a hold of him by phone after dinner - though admittedly we were going to head for his place anyway! After about 1/2 hour's ride in the dark Colleen found Bubba's house. Jim, Karina and Arija were wonderful hosts! They welcomed 4 weary motorcyclists and gave us all places to sleep. Their house was one of the best rooms of our whole trip!!!
Day 16 - September 9
th
: Castlegar, BC to Calgary, AB. ~690km. We awoke at Bubba's house to some good coffee and a great visit. The four of us then headed East to Salmo to meet Kootenanny (Geoff) and then ride over the Salmo-Creston pass. The pace was somewhat lower than most would have done the road due to people warning us to slow down at the beginning of the pass - we never saw a speed trap, or wildlife, or anything - but the result was a lower group pace. This was actually great for Sharon, who was able to keep up with the group through the somewhat speedy (100~120km/hr) twists and turns of this road. The 5 of us enjoyed a good brunch in Creston and then Kootenanny had to go his own way. The 4 of us took the 3 & 95 to Cranbrook & Kimberly where we showed Colleen & Doug the entrance of the road to Gray Creek Pass. We set off for Radium as two separate twosomes. Along the way we saw what HAD to have been another motorcycle accident scene. We saw fire trucks, a pickup parked on the wrong shoulder, and a pair of shoes on the road?! DD & RJ were ahead of us at this point and had seen an air ambulance lifting off. We actually arrived in Radium ahead of the other two, as they had stopped for some photo ops along the way. We said our goodbyes there as they were headed into Banff and we had to get home that night. The climb out of Radium is always a good place to work on high speed curves. Getting ahead of ALL of the slow tourists on four wheels before the passing lane ends was a challenge that was met! The whole stretch went quite quickly and well. A bit chilly through the parks, we had a good ride along the 1A and arrived home around 8:30. According to the odometer on the KLR, we put on 7660km in 16 days away from home - 15 of those actually in the saddle since the bikes didn't move for one day while we bummed around at Jim & Emilie's.