North West Mog Fest 2005
Disclaimer: all photos of individuals on this page are published under editorial rights. Any photos will be removed upon written request of the individuals pictured.
After not being able to attend NWMF 2004, we made it to the event again in 2005. This year we decided to take a leisurely four days to drive from Calgary to Sheridan. We set out not as early as intended on Saturday the 13
th
of August. That night we camped on some abandoned spur of a logging road in BC, we're really not sure where it was! On Sunday we headed through the border crossing at Osoyoos in the heat of the afternoon (due to the late start from home) - fortunately it wasn't that hot of a day for that area. This year's border crossing saw our pepperoni sticks confiscated due to beef content - like we're going to spread mad cow disease with our pepperoni!!!
Our first rest stop after the border was at an abandoned hydro-electric generating station at Enloe Dam in Washington.
The reservoir was beautiful. We saw a lot of abandoned mines & aqueducts in the area. Many years ago there was a suspension bridge to the abandoned generating station that has now been removed - so you can only see the station from across the river. However, it seems to be a popular spot for camping, fishing & snorkeling.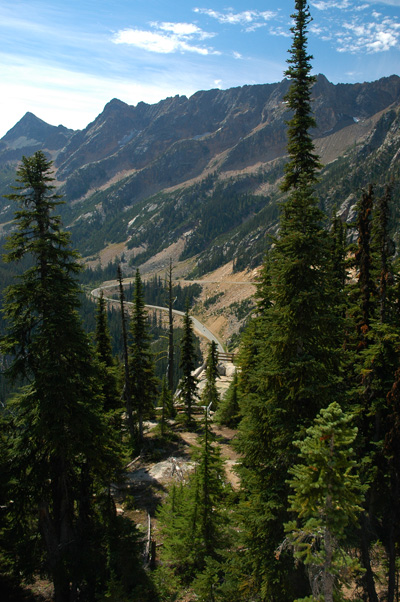 We drove through Washington Pass, Washington. We stopped halfway up to open the heater valves so that the engine ran a few degrees cooler. We made it to the top in third, on the shoulder with the hazard lights on, but there were others who didn't make it at all. A state trooper stopped to check on us when we were opening the valves, but didn't give us any trouble and agreed that working to cool things off *before* overheating was a very good idea.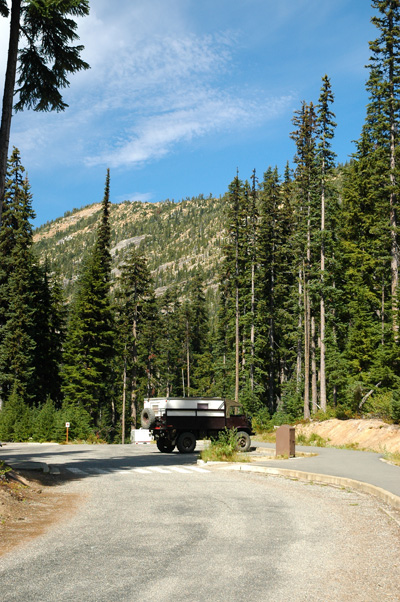 The top of the pass provided a picturesque rest stop where we allowed the truck to cool off completely.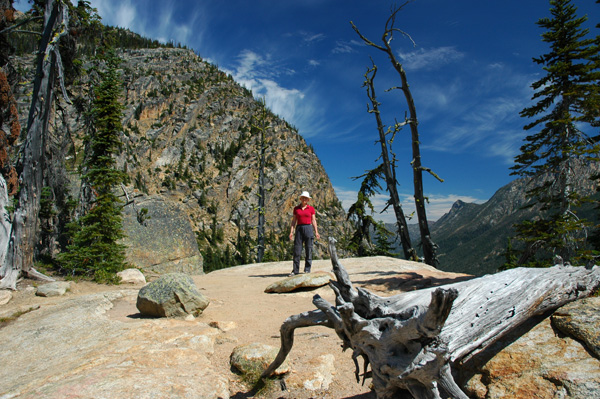 The was *even deeper* blue than it shows here! Reducing the quality so as to make the pictures fit on the webpage also reduces the impact of the colours - oh well.
The reservoir at Diablo Dam. Some variation of devilish seems very appropriate for this area - the wind nearly blew off our tied-on Tilley hats. We ate lunch away from the edge where the wind wasn't blowing as badly, but near the railing it was a gale. We even managed to avoid the "survey chickie" who was accosting most of the people stopped in the rest area.
Later on Sunday we crossed the Keystone Ferry to Port Townsend.
During the crossing we saw a war ship being escorted by four patrol boats.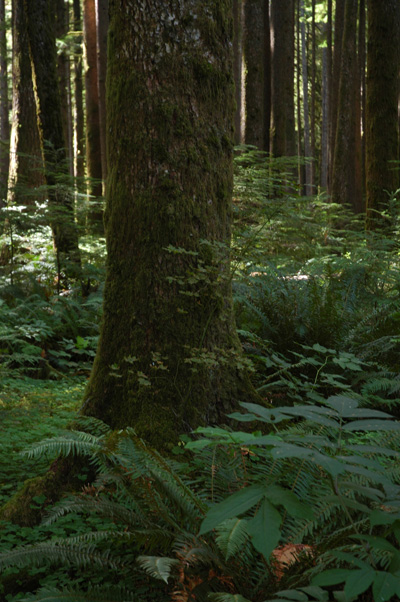 We camped in a campground on the Olympic Peninsula on Sunday night. The reduced quality for the web posting of this photo just does not do it justice.
We finally made it to the Waldersee Farm in Sheridan, Oregon after a beautiful drive down the 101.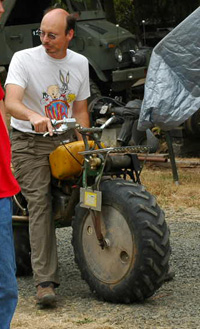 Many people were there including Kelly on his Rokon - two wheel drive motorcycle. Warning to other first time riders, begin in third gear, not first!!! It is much too hard to balance going that slowly. Thanks for the test drive, Kelly.
There were lots of neat trucks:
Including Ryan's radio box that is for sale.
John Wessels' clean 404.0 fire truck.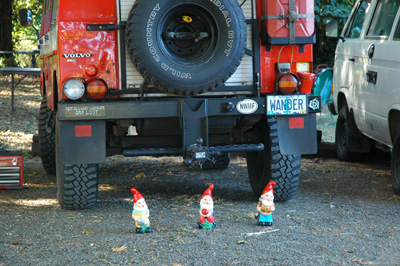 A number of these strange Volvo critters... Such as Jim Molloy's shiny red specimen, guarded by the lawn gnomes. We wouldn't suggest turning your back on them...
And this amphibious looking specimen. We're not too sure about testing how well it floats... Note the oar, and the fish stickers! Note - beer cooler is required equipment, though a non-stock addition. With the solid axles and leaf springs we have doubts about the smoothness of ride, but the owners proclaim them to be quite good. Sean Molloy gave many test rides of this unit, but we didn't get to it this year.
Not all the 4 wheel drives were big bruisers. Example: this special bow-wow equipped VW syncro Zach & Kris drove from Olympia.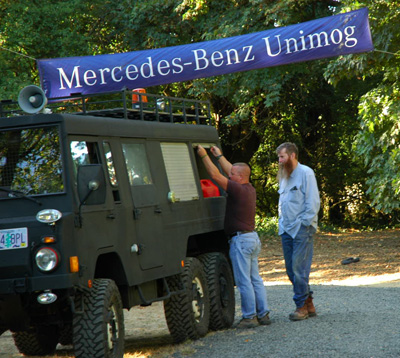 Yet another Volvo - this one was a cool 6x6.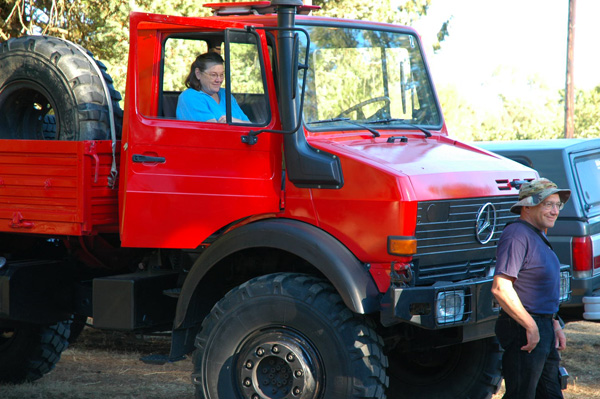 Bob & Kitty Ragain flew in on a jet plane so that they could drive to Indiana in Dan Johnson's pretty red 2450.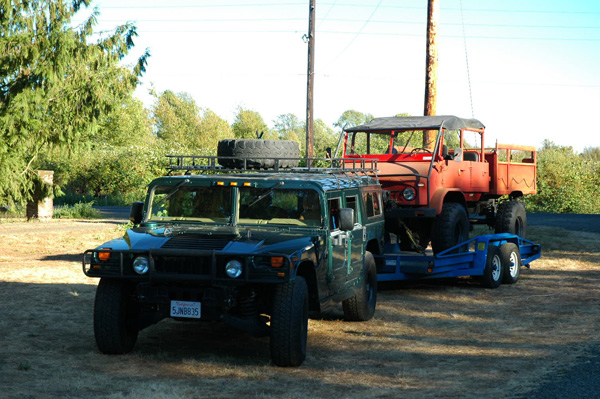 Bruce arrived with Rhino Mog behind his Hummer? We trashed him terribly and offered to add the Hummer as part of the obstacle course to drive over until we saw his UniMoG bumper sticker - "Hummer Recovery Vehicle".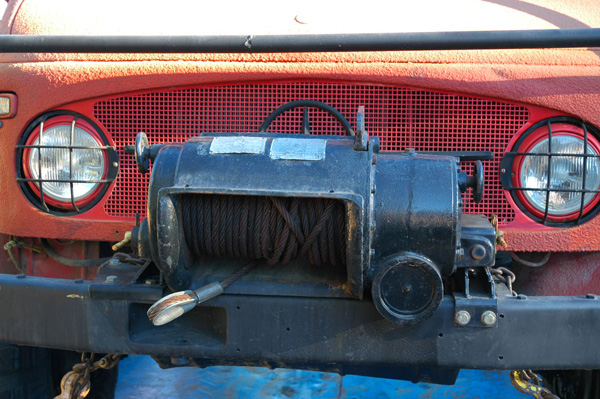 With the PTO winch, Rhino Mog has the pulling power to fulfill the promise on the sticker. (One of many goodies on Bruce's truck.)
And the littlest UniMoG.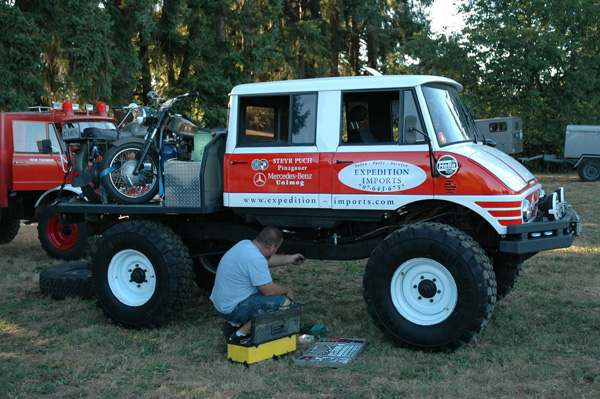 A demonstration was provided on how not to remove the steps on your 404.0. Note to self - put the bolts back in, they hold in the transmission *in addition* to holding on the steps.
In addition to providing some Condor motorcycles to test drive - Scott from Expedition Imports was happy to provide a demonstration of what a Pinzgauer can do. No, he isn't stuck.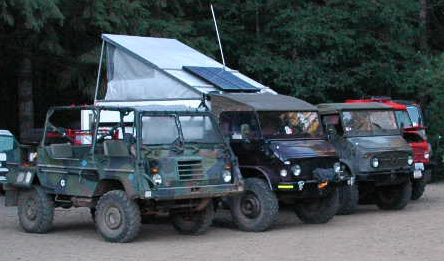 Base camp at the Trail Ride. Note the cute purple one in the middle with the solar panels and the stylish rake angle on the CB antenna!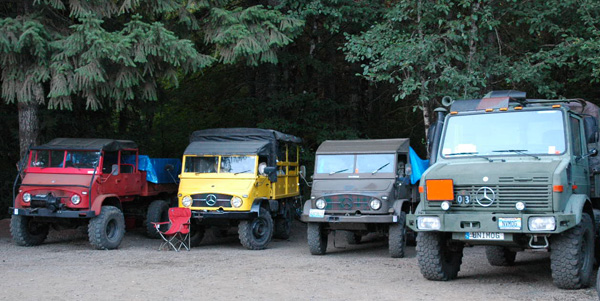 More trucks at base camp including two Swiss 404's flanked by Rhino Mog and Mike Pop's 1300 - the largest truck to drive the trails.
The line up of the trucks getting ready for the trailride. We counted 23 UniMoGs and others including Pinzez, Volvos & one Haffie.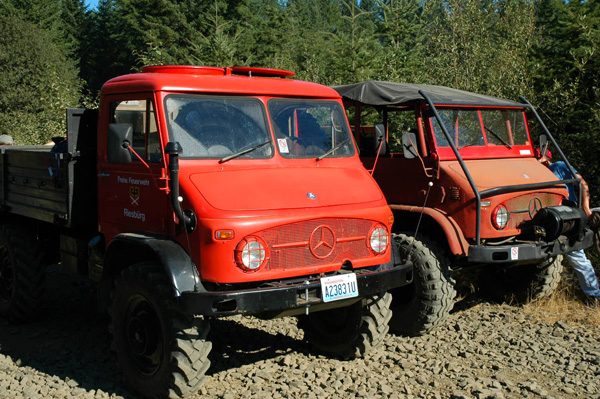 This is Blaine's "Sano" 416 Doka with dual hydraulic winches.
Not many pictures of the trail ride - we were enjoying the drive! We did get a few of the Rock Garden:
Including Ryan's rock crawler,
Paul's stock 404,
and Eric with his stock 404. Note the wheel to rock clearance.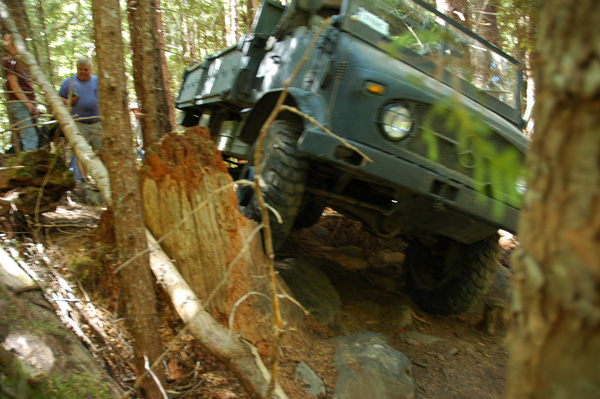 This is almost the best line. The best line actually goes over the stump.
It is truly amazing how well a stock 404 can do in harsh terrain. Very little damage was sustained - only body damage from bits sticking out in the way.
But NWMF isn't just about driving trucks. It is a family event with fun for all - like these youngsters playing tag on the straw bales.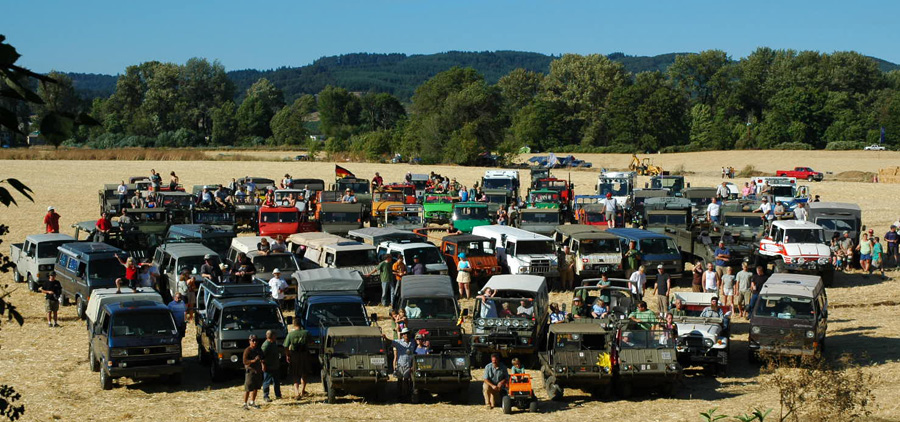 NWMF 2005 Group Photo. At the lead note Parker and his 50cc. Mini-Mog.
A lot of people post on and read the list. Before our first NWMF we had no idea what these people looked like. Here are some faces to go with some of the names. We apologize in advance for any mis-spelled or missing names.
Jim Ince
Håkan Andersson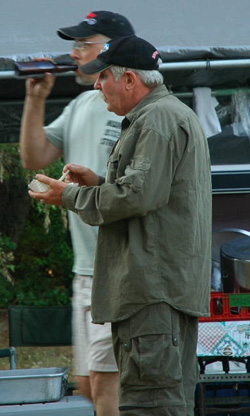 Dean with Eric Messersmith
Kendall Everett with his youngest child. Kendall is the designer of the official NWMF tee-shirts.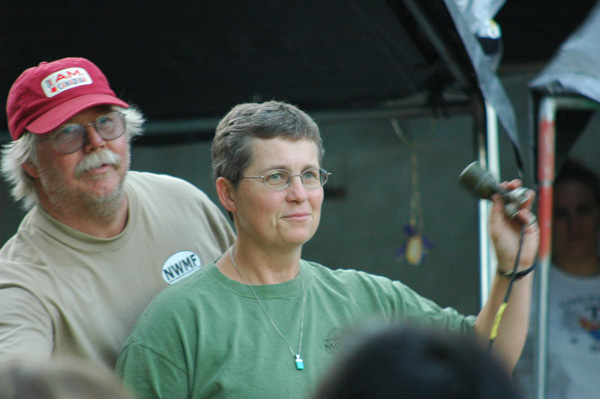 Jim & Emile Molloy - our wonderful hosts!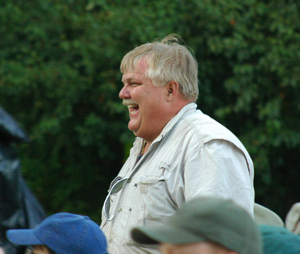 Sean "Uncle Buck" Molloy
"That nice lady from Canada who won the locking gas cap."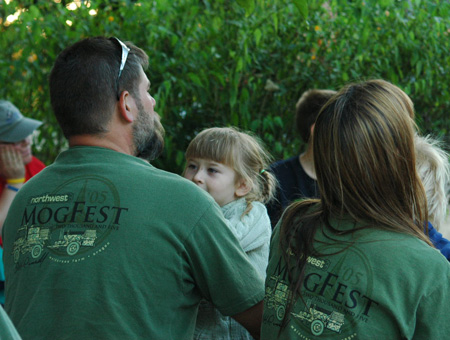 The Purdoms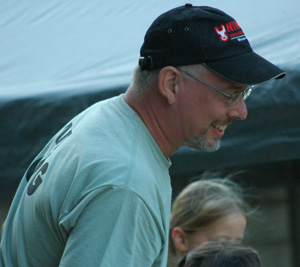 Dean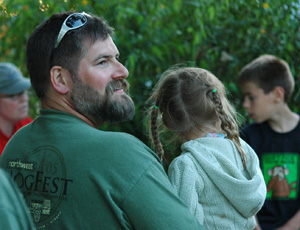 Eric Purdom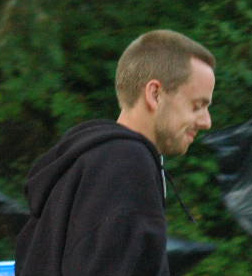 Zach Gray
Shamus & Julie Gamache
Emilie with Kris Dale ("The Girl Kris")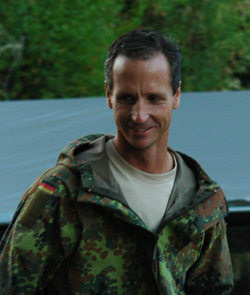 Mike Pop
Kelly
Frank Jones
Ryan Gerrish in his very spiffy UniMoG safety vest
John Van Horn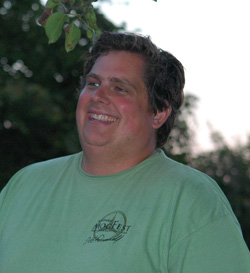 Scott Ingham
Jim Molloy signaling to Kris to come pick up her flags.
We left directly after the raffle. Since we both had to work on Tuesday, we had to get home as quickly as possible. The first night we drove a fair distance in the dark, pulling off to the side of the road at a gated entrance to a back-road on some back-road.
Sunday we headed through the hot part of Washington, climbing Manastash ridge very slowly - though not quite as slowly as it was when we traveled that route in the opposite direction to attend NWMF 2002. Unfortunately the I-90 is the shortest route diagonally across Washington - it is not our favourite route, but shortening the trip home to 1500kms was important to us. We only stopped when it was too hot for the truck (& ourselves) - a Mexican restaurant was a good stop to cool the truck and refresh ourselves in the air-conditioned, Cerveza serving environment. Sunday night we'd gotten into the very populated area north of Spokane. We camped at some lake where the guy was nice enough to only charge us $10 for the use of a corner of his lawn to park for the night. RV hookups just don't apply to us!
Monday involved crossing the border north of Spokane, where we had our first ever vehicle search by Canada Customs. They were quick & polite & didn't find anything wrong, so we were on our way fairly quickly. We got home later that evening.
Getting up Tuesday morning in the cold, dark rain to go to work was a rude ending to a great trip to Oregon! The phrase "boy, this part of Oregon really sucks!" came to mind. Oops, that's because we're back in Calgary.
We'll be back. We can't guarantee what year, but we'll be there!!!