After 38,000km...
...on a set of Continental MPT 81's.
In early 2004, at about 36,000 km, we started to notice that the tires were definitely getting worn. The traction on muddy roads just wasn't what it was three years earlier when the tires were new. When new, these tires didn't slip sideways, they went where you told them. Now, we noticed that they didn't always stay where you'd planted a paw.
We hoped to get one last season on the tires, but knew their days were numbered. On a logging road in Northern B.C. (North East of Prince George) we discovered that the end had come for one of our tires, in the pouring rain. It looks as though a rock placed itself in just the wrong place with just a little too much force & tried to tear a lug right out of the tire. We pulled over as soon as we realized the tire was flat, but it was too late - the side wall was destroyed. We made the 900km trip home from Prince George (shortest highway route possible) on our bias-ply spare tire, with no spare. Neither of these facts made for a comfortable trip home. Your traction is much more erratic with one bias-ply mixed in with three radials.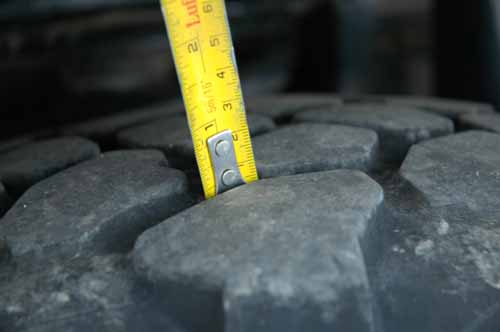 The old tires have a tread depth varying between 3 and 7 mm.
When we got home we ordered two new tires and now have them on the front end of the truck. We expect to be replacing the other two within a year, but putting off the expense a little while helps. The tread difference is impressive!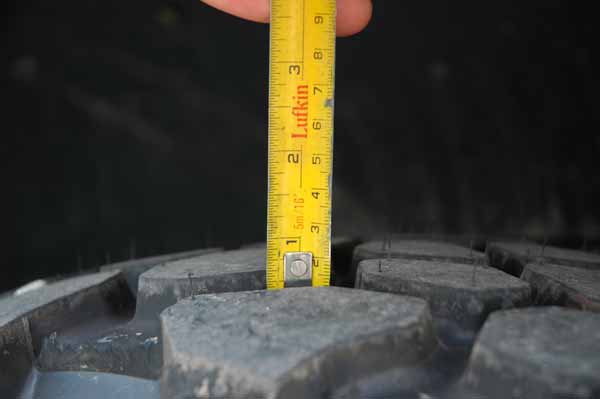 The new tires have a tread depth of about 12mm.
We
are
happy to have a radial spare for one of our spare tires, but we would have liked to put it off a little longer. This incident emphasized the necessity of finishing the mount for a second spare tire that we had begun sometime earlier. Had we had it along we could have at least done a little off-road driving on our way home from Prince George.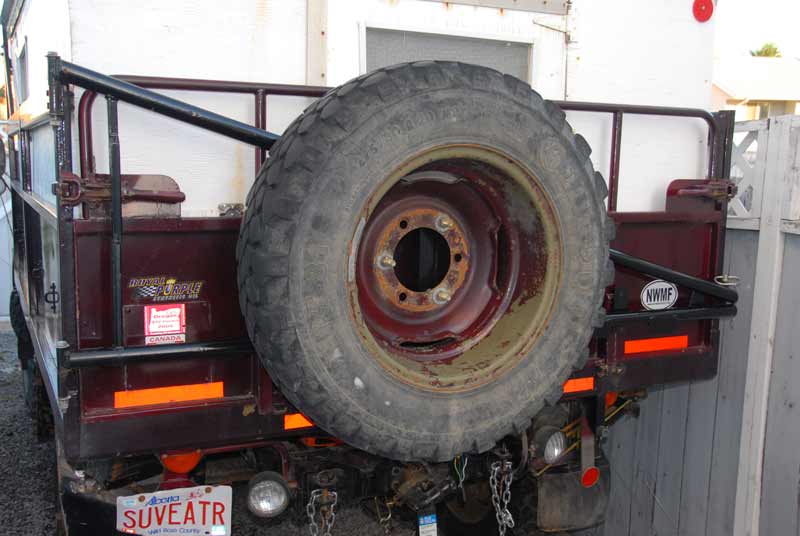 This second tail gate has been in place for a few years now and works *very* well.