Passes & Dams 2010
We don't normally head out with the touring bikes quite so late in the season, but work schedules conspired to delay our late summer trip until the beginning of October. We headed out on Saturday October 2nd, with no fixed plans.
After a typically windy ride through
Crowsnest Pass
(1382m), the temperature dropped as the sun set, and we stopped for the night in Cranbrook.
A chilly, moist ride took us through
Kootenay Pass
(1774m) and across the border into Washington at Nelway. The day got warmer as we headed west and found our way through
Shermann Pass
(5577ft),
Wauconda Pass
(4310ft),
Loup Loup Summit
(4020ft)
Lots of Slow Children. The Dead ones are the slowest.
One can never tire of highway 20 through
Washington Pass
(5477ft).
Rainy Pass
(4855ft) was surprisingly dry, though cold. The overlook at
Diablo Dam
was actually not windy! It was safe to pull a map out of the tank bag, a first for that location.
Steam engine in Newhalem, WA.
Carrying on south through Rockport and Darrington leads to a portion of the Cascade Mountain Loop that the map shows to be un-paved. After a fun 15km of twists, we discovered the map was correct!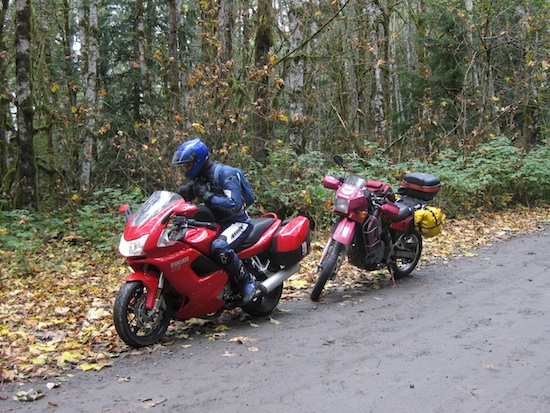 Nothing spells 'adventure' like a sport bike on a muddy road.
The road was hard-pack with not a lot of gravel, so we chose to chance it. Over the course of the next 22km it got damper and greasier for the street tires, and we crossed
Barlow Pass
(2361ft) just before getting back onto some more lovely twisty pavement.
If you go into the woods today, you're in for a big surprise.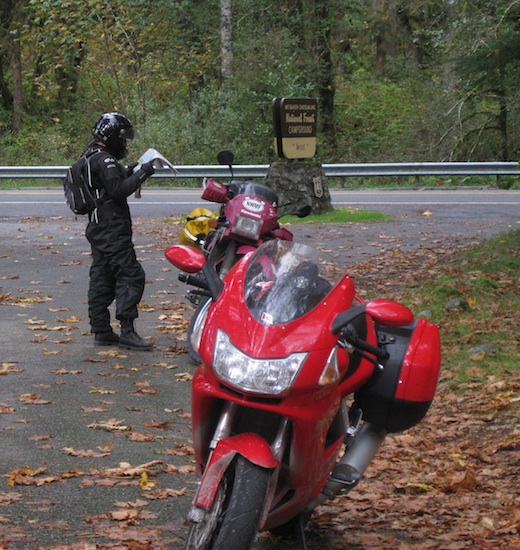 I think we shoulda taken that left turn at Albaqueqoike
Hope the Ducati doesn't get grumpy at all this mud. Fortunately the temperature was pretty cool as the radiator was pretty plugged up too.
Stevens Pass
(4061ft) was cold, but we were fortune enough to stay dry.
Just like being in the Alps. Well not quite, but Leavenworth tries hard.
Chief Joseph Dam
.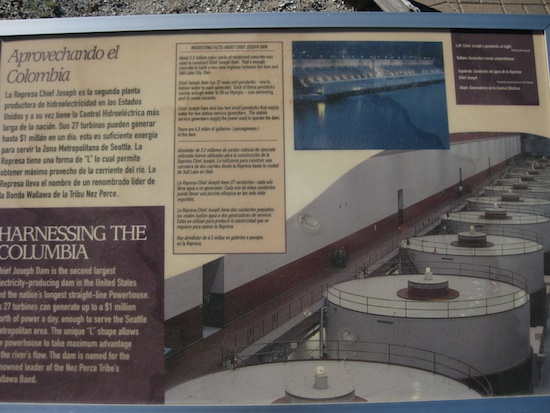 One of many on the Columbia River.
All that water is surrounded by the desert flora.
After passing it by for many trips the detour to
Grand Coulee Dam
is made.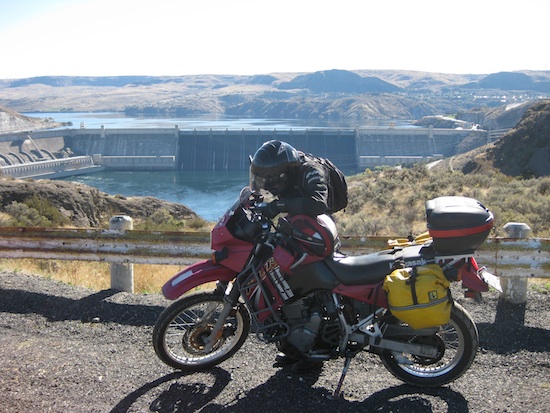 Checking the GPS to make SURE that this is the correct dam.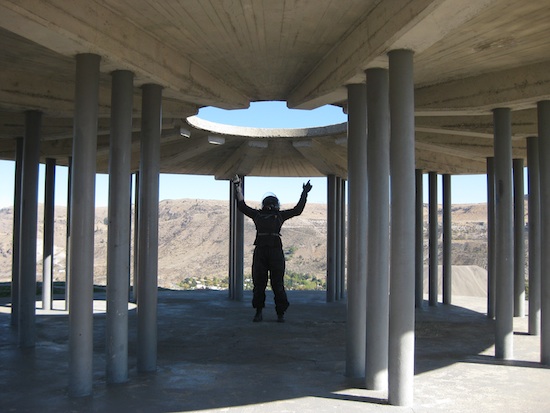 Beam me up Scotty. There's no intelligent life down here.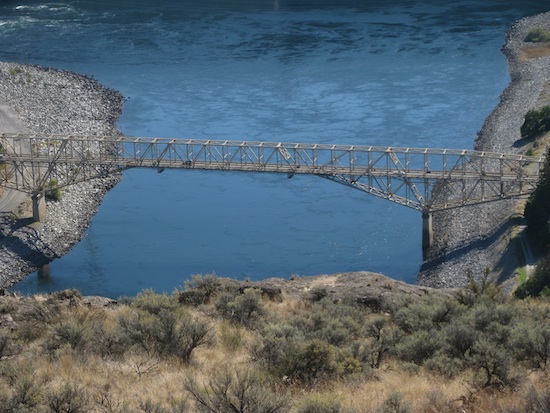 How do I get to that bridge? I'm sure I can motard across it…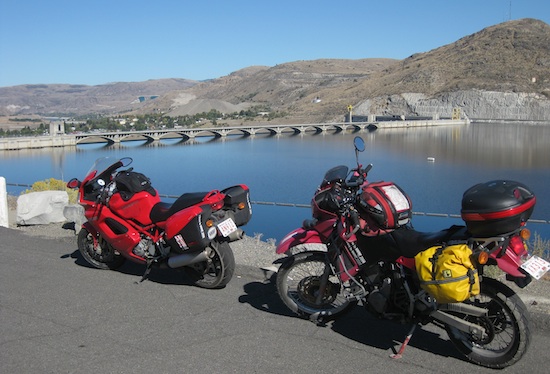 Resting beside Grand Coulee reservoir.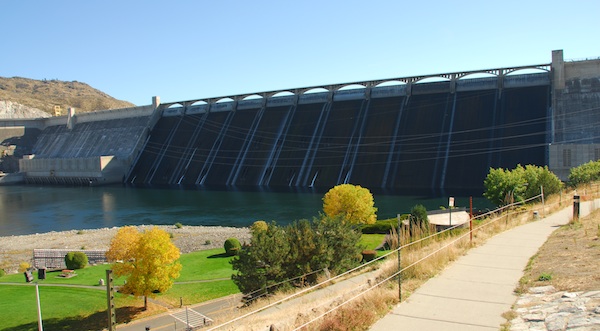 The base of Grand Coulee dam.
The visitor centre of Grand Coulee dam.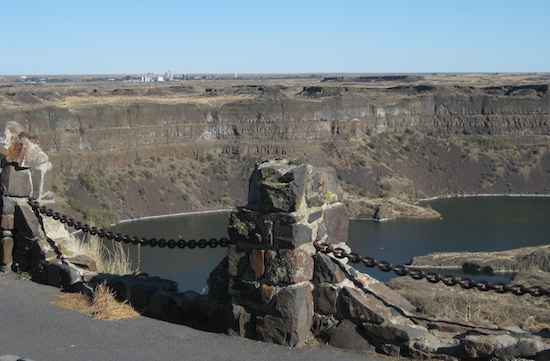 The Worlds Largest Waterfall… a few million years ago or something apparently.
Some parts of Washington seem pretty isolated. This part at least had rolling hills. It very nearly also had a set of tire levers which broke their bonds with the KLR nerf bars & bounced off Sharon's boot on their way to the ground.
Following the Snake River to the
Lower Granite Dam
.
Following the roads along the canyons that cut through the plains can be interesting.
Alpowa Summit
(2785ft)
We always enjoy the experience of riding through
Rattlesnake Pass
(3965ft). Boggan's Oasis is a great stop by the river to enjoy a simple lunch.
On the way to Enterprise, Oregon we passed through another
Summit
(4693ft).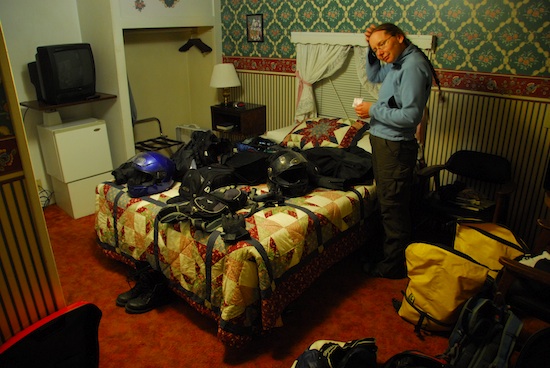 The Country Inn, very quaint. Now where are we going to put all this stuff when we want to sleep?!?
The Wilderness Inn is a bit nicer for staging from for multiple days, but this worked for a night and it was cheap.
It's an interesting place. Heating duties are carried out by Ye-Ole-Heater.
Lonesome Saddle
(5000ft)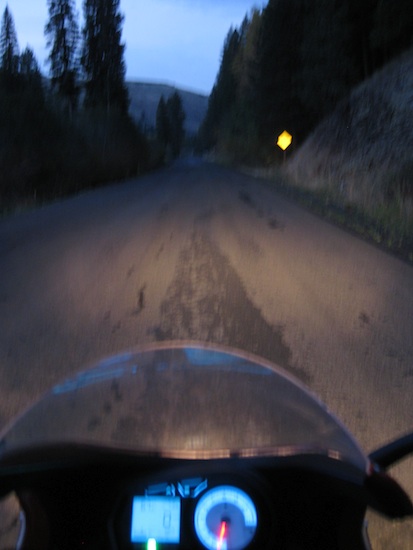 You know you're pushing the season when what seems like an afternoon ride to the Hells Canyon overlook becomes a ride through the twisties in the dark!
A wet day means no pictures, but we found a few more passes to pass through ;)
Summit
(on 244 road) (4884ft)
Crane Flat Summit
(5675ft)
Granite Pass
(5864ft)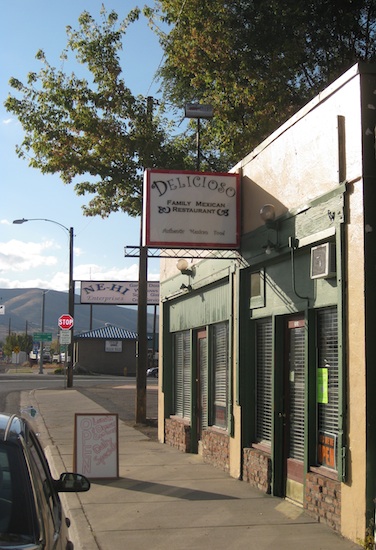 The Delicioso Family Mexican Restaurant in Baker City Oregon is very unassuming but has excellent food.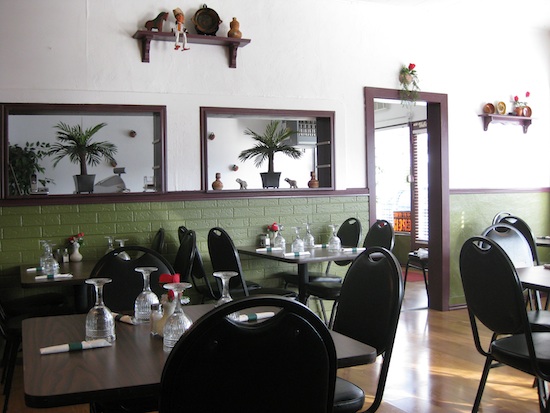 The decor is simple but nice and oddly doesn't have the typical overboard Mexicana.
Flagstaff Hill Summit
(3684ft)
Descending into Richland, OR. It's a neat route across on highway 86 with a good view.
The road across
Oxbow Dam
and
Brownlee Dam
has a silly low speed limit, but one can still have fun. By the time we crossed through another
Summit
(4131ft) near Cambridge it was dark again. Keith has decided it is his personal mission to rid the world of cattle through eating more beef - then maybe they won't stand on the road in front of him in the dark! Cows should *really* be required to wear reflective vests if they're going to stand on the road at night! A very near miss of a very black cow was NOT a very fun experience.
Banner Summit
(7020ft)
The Village Inn in Challis Idaho where the '70s survive. No, neither praying nor hanging your head will make them go away.
Though old and a little tired, it's actually quite clean and comfortable with a good restaurant that serves fresh Idaho trout and eggs for breakfast. Yum! Yum!
Chief Joseph Pass
(7264ft)
We found that the 83 north through Montana is a great road to put on mileage without getting bored.
The last 15km into Fernie were some of the most terrifying we've experienced on two wheels. It was a dark and stormy night with brand spanking new pavement and NO reflective markings to be found. Between rain, road spray & visor fog visibility was practically zero. Riding off the road was a real concern - and very nearly happened. Visor fog is a huge safety issue - somebody needs to invent a cure! People who insist on passing motorcycles attempting to arrive at their destination in one piece & still upright in the dark in the rain should at LEAST be considerate enough not to force their way between them & split them up.
Crowsnest Pass
(1382m)
Cold, damp - one last downpour that lasted just long enough to soak the boots again.
We certainly noticed that the days were shorter at this time of the season, we only put on 4862km in 10 days. It was a good trip - and not *actually* all that wet for the time of year!