Trying to get Warm... November, 2012
We like to go for one last motorcycle tour in the fall to finish up our riding season. This year, projects and things conspired to keep us from leaving quite in time. We felt a little funny "trailering" our bikes out of town, but fall had turned to winter on us.
There were winter storm warnings throughout the lower parts of Western Canada, and blizzards abounded. We decided not to leave during the Thursday night blizzard, and instead took off at first light on Friday, the 9th of November.
This is the weather we left at home.
We encountered some serious weather just leaving the city.
Highway 93 to Radium Hot Springs.
Further south near Cranbrook it was warmer, but still snowy. As we crossed the border into Washington State things continued to improve.
Green grass! Still not far enough though. This is a full-scale, concrete replica of Stonehenge, located along Highway 14 in Washington.
End of season winery tours in Oregon were interesting and rewarding.
The weather in Oregon was certainly better than at home, but if you're traveling to find good weather you may as well keep going until you find
really
good weather. Next stop, California.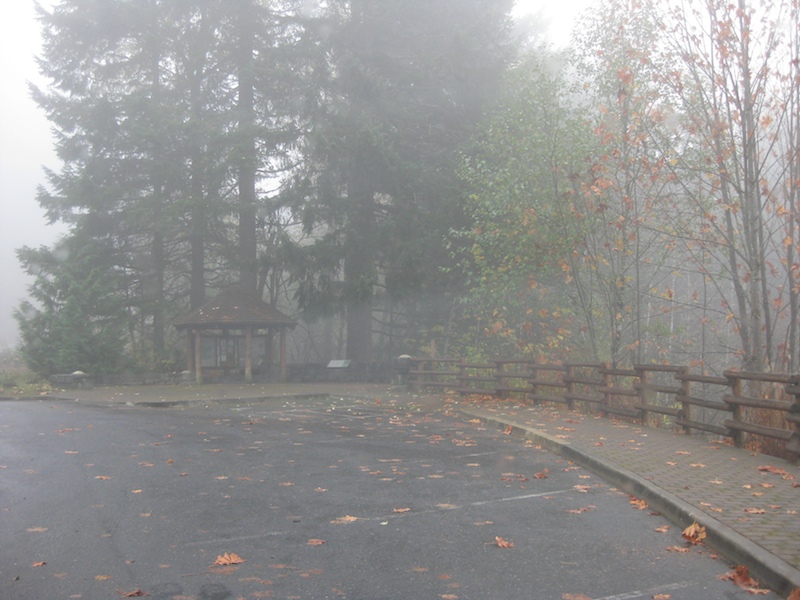 We discovered that we were too late for nice fall weather in Northern California. The rainy season had started. With a detour through the misty Redwoods we carried on towards Death Valley.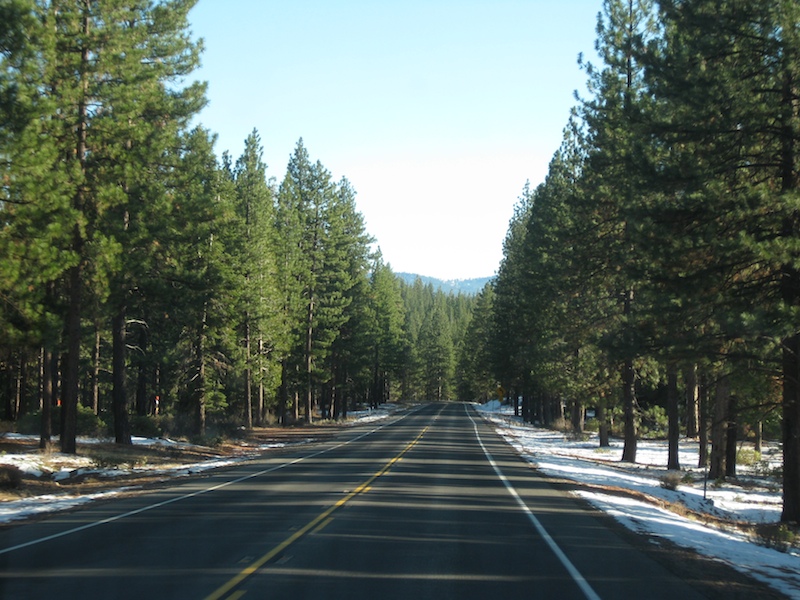 The area around Mount Shasta had too much snow. Not far enough South. Keep going.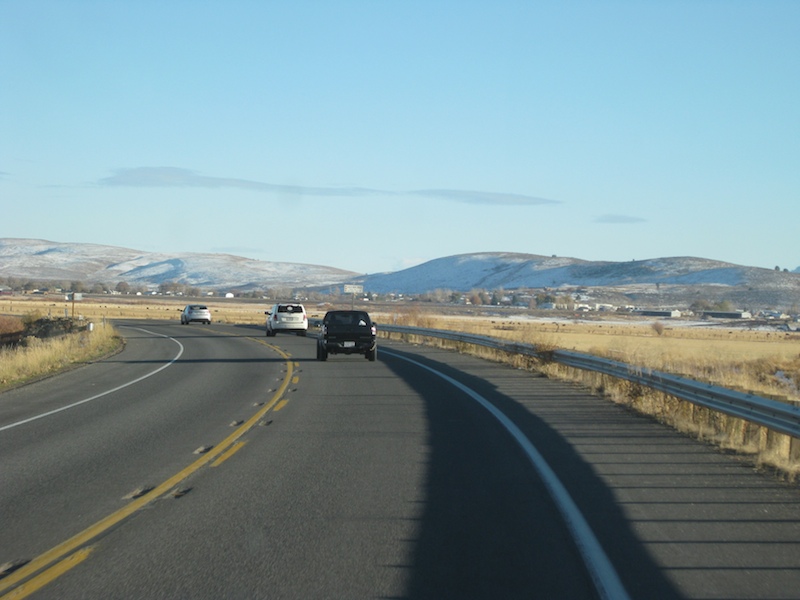 A lot of the California Interior is quite high which means too cold. Not there yet.
Steam rising as the sun heated a shallow lake.
We were still pretty high up on a very cold morning after staying in Bridgeport, CA. Bridgeport is now a place on our list - a place to avoid. It is a very expensive dot on the road with few amenities. We only stayed there because it was very late, very dark, and we were very tired.
Death Valley at last.
Whether you approach from the East or the West, it's very similar. Big mountain range, then big flat valley below sea level, then big mountain range, then big valley, then climb a big mountain range to get out. The altitude graph on the GPS was quite interesting.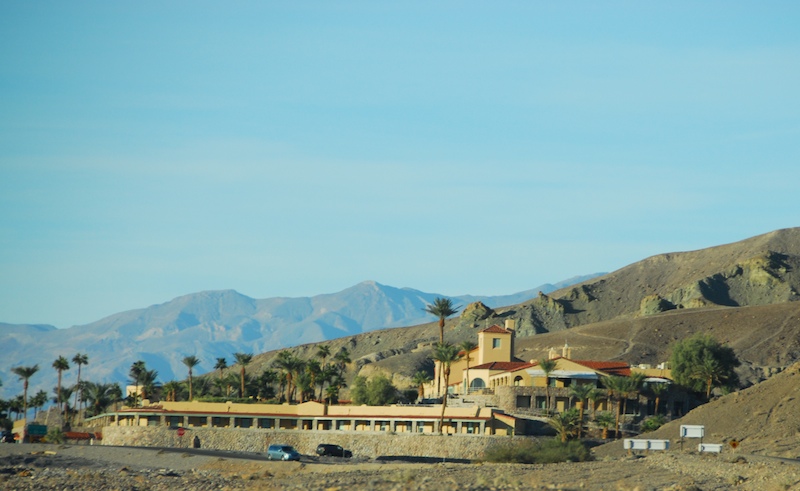 Palm trees!!! Great sign!!! The Furnace Creek Resort really reminds one of the cover of Hotel California, even though it's not the same place.
We drove through the park and stayed in Beatty, NV (pronounced BAYdee). It's a lot cheaper than staying in the park and everyone was really friendly.
After getting settled in, we were off to explore some of the back roads of Death Valley. The park ranger was quite happy to supply us with the "back roads" map once she knew we were on Dual Sports. Originally, we intended to pack the pair of 250s for this trip. However, just a few days before the trip when the bikes were getting their last minute mechanical "check over" one of them wouldn't start, and we really had no extra time to spend on diagnosis. Multiple bikes to the rescue! Keith's KLR was tucked into the Sprinter alongside Sharon's WRX.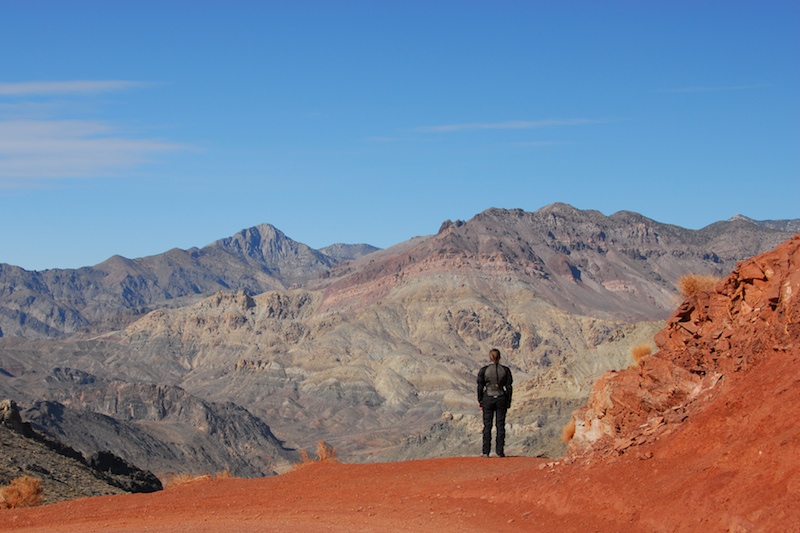 Is there life out there? Incredible view.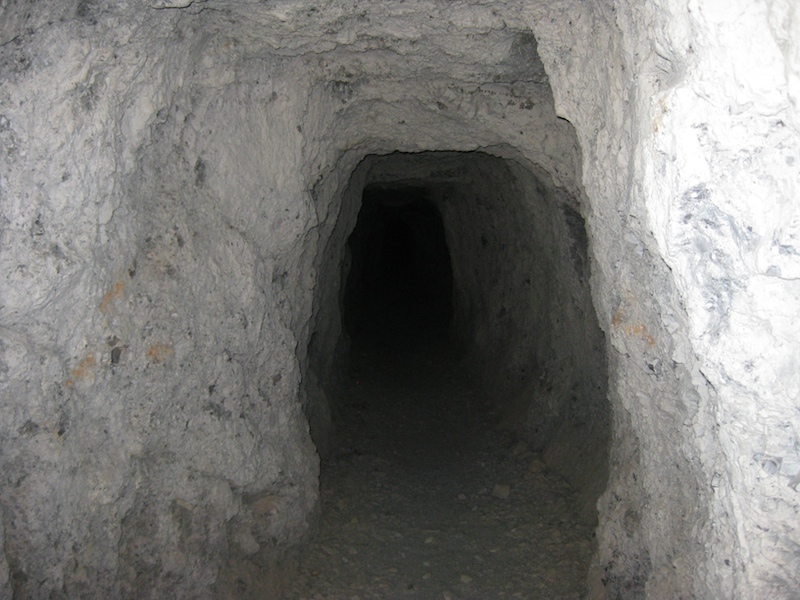 Lots of abandoned mines. Any that are reasonably easy to access have been well barricaded. You can see in but you won't get in without a cutting torch. Fine by us! This is close enough.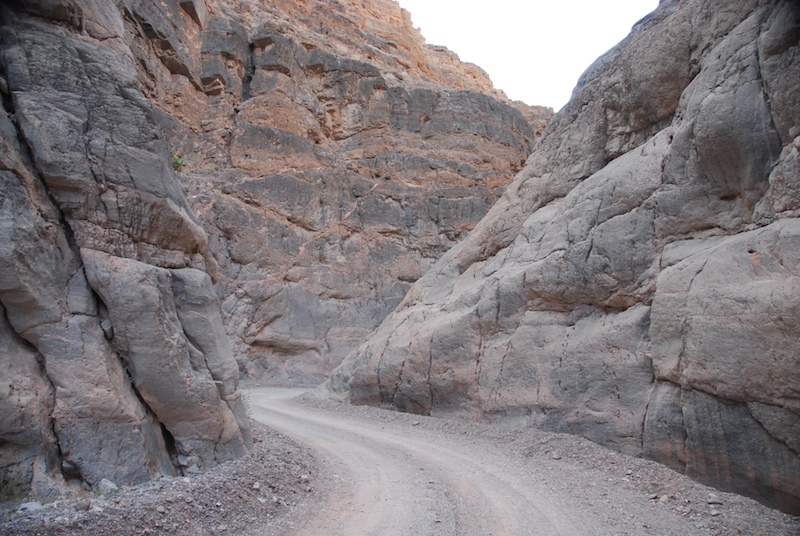 The road through Titus Canyon. It was one-way! How nice to know no-one could be coming at you around blind corners.
A very bad picture of Bad Water. A dried salt lake towards the South end past Furnace Creek.
Tea Kettle Junction on the way to the Race Track is hard to miss. This road was a nasty washboard. It is slow going regardless of what you're riding or driving.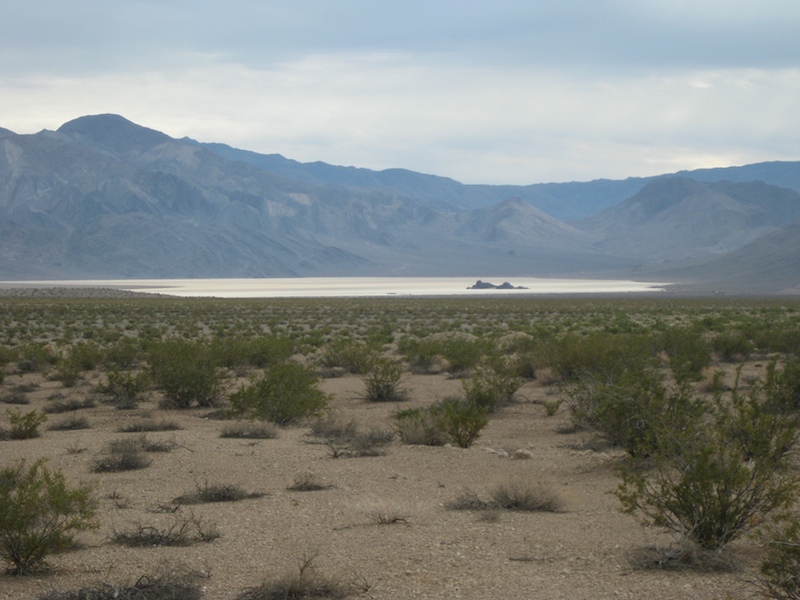 The Race Track as seen from the distance.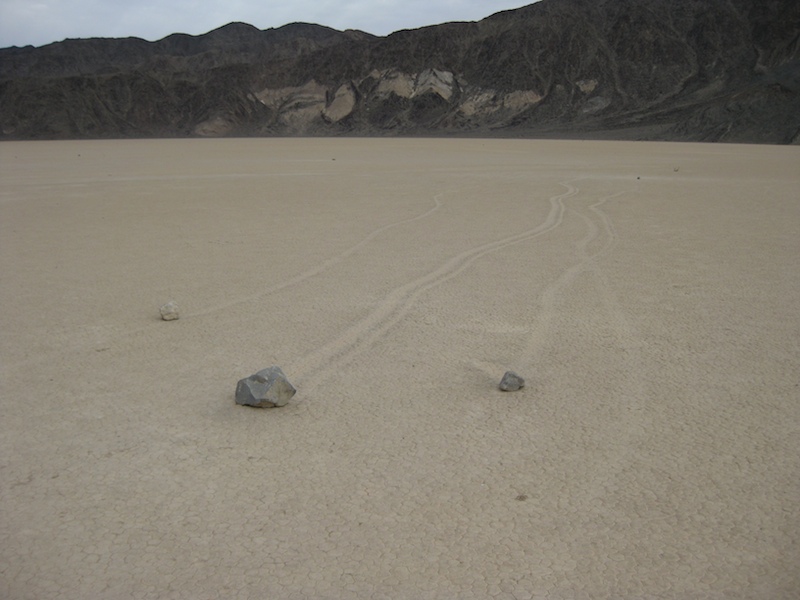 The Race Track. There are signs that the rocks have moved. The trails that they leave in the hard playa are obvious. The theory is that the rare freak rainstorm creates an ultra slippery surface of mud. Combine that with high winds and the rocks move!
Lippincott Pass. The sign means business. Even on a motorcycle, which moves quickly, you're a long way from anything out here. Keith was definitely reminded why he prefers the 100lbs lighter WR250 on trails like this. He managed to only allow the heavy pig to trap his leg up against a rock once, that was miraculous!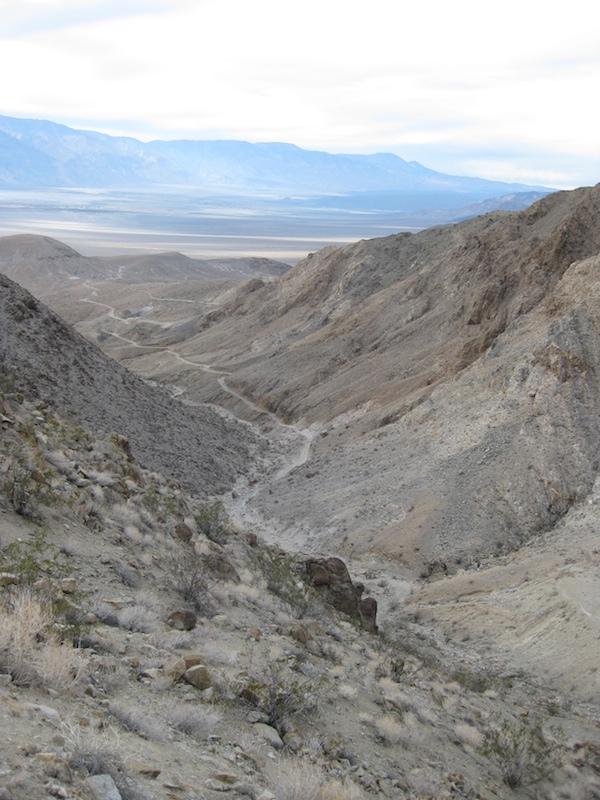 The pass is a long and very rough winding road down to the valley plain with abandoned mine scenery along the way.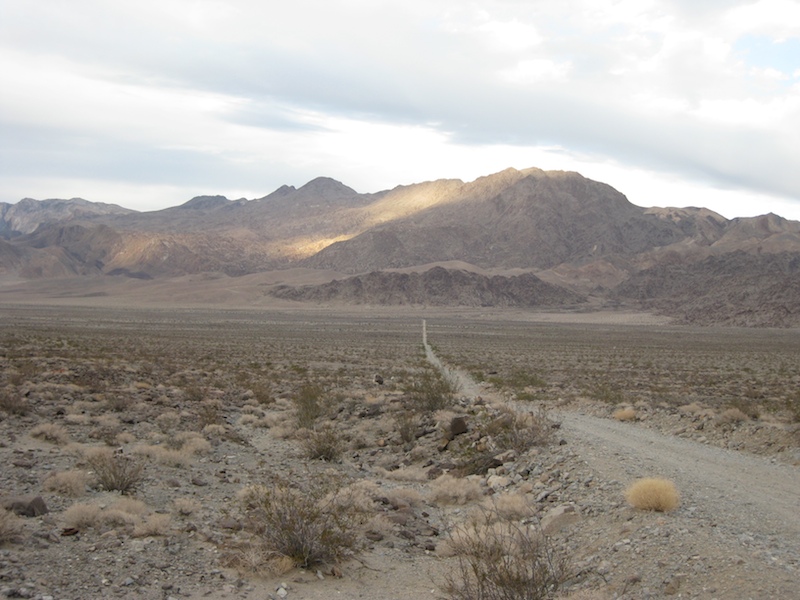 At last we made it to the valley floor. At this point we realized we would be very lucky to make it back to pavement before dark. In the distance there is a "T" intersection. The long but sure way to pavement lies North (right). The shorter South route is "closed". We have a few more miles to decide.
In the end, we decided to go South and take our chances. It is obvious why the road is "Signed Closed" by the county at the highway, as there were many washouts. We were not back to pavement before dark, but at least we were past all of the true "off road" sections!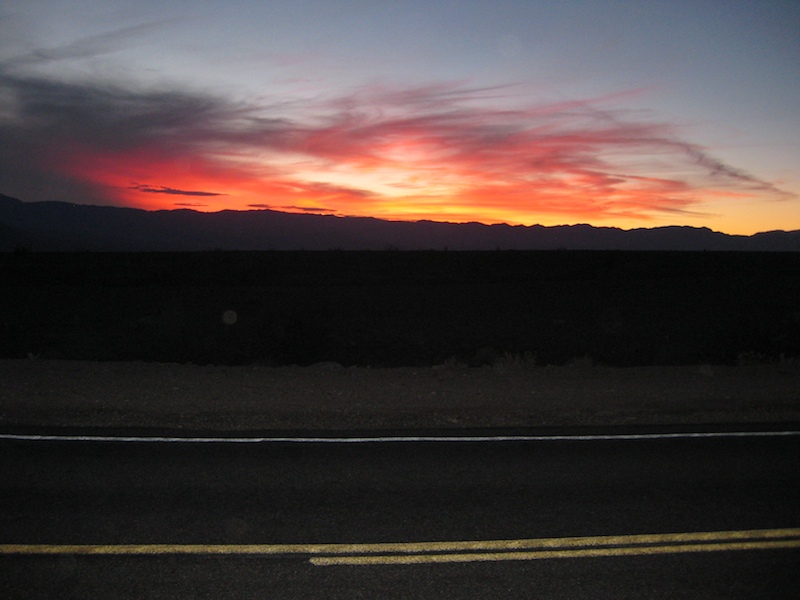 We're not used to these Southern latitudes, and we just couldn't get used to how quickly it gets dark. We were caught out on the bikes after dark each night we were there. Not so bad on the highway, just cold, but really not fun when we were still in the dirt. The WR has a good bright headlight which turns with the front wheel, but the one on the KLR is rather useless and fixed straight ahead.
The view of our motel when returning to it after dark. Cheesy, yes, but the room was big, clean and cheap!
On our last day we stopped by the Ryolite ghost town as we were leaving. There are some interesting sights and history in the town, including this old train depot.
This gentleman seemed to be having an issue with his bicycle outside the museum.
Someone else who was visiting the museum arrived on an XT.
Finally heading out. Next stop, Idaho, but first a whole lot more of Nevada. It pretty much looked like this for hours! Can you think of a better place to test an Atomic Bomb? Who would even know??
Somewhere along the way home we made a brief rest stop and saw what we had been thinking for some time. WE WERE GOING THE WRONG WAY!!!